Fourteen tight ends were selected during the 1998 NFL Draft, but only one would play in the league longer than Roland Williams, who was chosen by the Rams in the fourth round out of Syracuse.
"It was a dream come true," Williams said. "As a kid who grew up in the 19th Ward in Rochester, New York, there are a lot of people that weren't able to have their football dreams fulfilled. It was just a culmination of a lot of work."
In Williams' first season, he would be named as the team's Rookie of the Year. However, it was a season filled with disappointment for the Rams. Losing six of the last seven games, they finished with a 4-12 record.
But as discouraging as 1998 was for the Rams organization and their fans, the following season was incredible. A greatest-show-on-turf-Lombardi-Trophy-winning-kind-of-incredible. Led by the now Hall of Fame coach, Dick Vermeil, they posted a 13-3 record and went on to win Super Bowl XXXIV.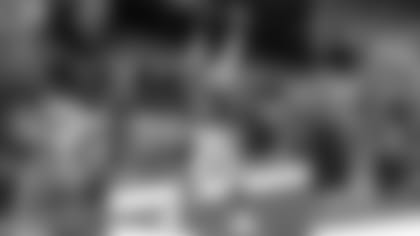 "I think the key to the turnaround was a few things. Dick Vermeil did an extraordinary job of convincing us that despite our past failures, we could be outstanding. And he told us the blueprint of how to get that done," Williams said.
"Dick Vermeil used to always say that 'the Vince Lombardi Trophy only weighs 7.5 pounds, but it takes an entire organization to lift it.' The Super Bowl for me was sort of the culmination of a life committed to football. And just a great moment."
Williams says the joy of the Rams winning their first Super Bowl has stood the test of time.
"Rams fans from across the world still remember our Super Bowl, and get so happy to reminisce on what we were able to accomplish that year," he said. "They still love seeing the ring and learning what it was like playing alongside some of the greatest to ever wear a helmet."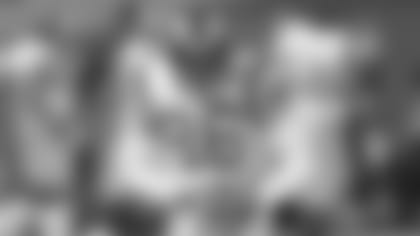 Playing eight seasons in the NFL – four with the Rams, three with the Raiders and one with the Buccaneers – Williams totaled 114 receptions for 1,004 yards and 13 touchdowns. What makes him most proud of his career?
"I'm most proud of what I had to overcome to make it to the NFL and the standard I maintained once I got in," Williams said. "Most people don't know I only played one year of high school football, then overcame a position change and injuries to only play a couple years in college.Once in the league, I did my best to work hard, build a reliable brand, bring a positive attitude and energy to the team."
Williams may have retired from the NFL in 2006, but he hasn't lost the competitive spirit and desire to be on winning teams.
As Chairman and CEO of Brown Diamond Holdings, Williams has become a successful entrepreneur committed to economic equity and empowerment. His portfolio of assets includes healthcare, manufacturing, consulting, technology and real estate companies.
One of his largest investments, J2 Medical Supply, is the largest African-American-owned MBE manufacturer of disposable gloves in the United States.
"Being an African-American athlete, there's a lot of stereotypes of what we can and cannot do off the field or court," Williams said. "So grateful for athletes who have come before us to show what is possible in life after sports. Syracuse legend Dave Bing, Magic Johnson, Shaquille O'Neal and Vinnie Johnson are all guys I look up to."
Williams is also is a football analyst for ABC7/KABC-TV in Los Angeles.
"Having the Rams come from St. Louis to Los Angeles was outstanding because we got a chance to become reconnected with the organization on a more frequent basis," Williams said. "I enjoy being around and helping make sure people know about and celebrate the Rams legacy. I do a whole lot of events for our Legends community.
"And I think at one of those, ABC reached out to the Rams and said they wanted me. At first, it was just the preseason. Then it went to the whole season. And now they may call me whenever there's something going on with the NFL."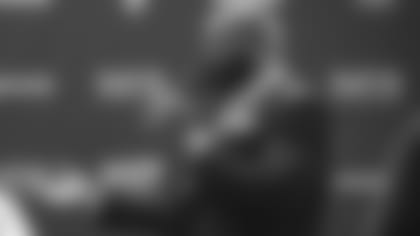 Making his home in Los Angeles, Williams has three sons: Trustin, who is a junior at UCLA; Justice, who is a junior at Oaks Christian High School. A 6-foot-4, 200-pound wide receiver, he is being heavily recruited by Division I colleges across the country; and Phoenix, who is in the sixth grade.
"My three sons mean the world to me, and every day I think about how grateful I am to be a father and how important it is to be a living example of how to operate as a man," Williams said. "One key lesson that I've learned from the NFL is no matter what you've done in the past, next season is a new opportunity so you can get better and improve."
Williams has not forgotten his past and has looked to better his hometown as the Founder and Chairman of Champion Academy, a non-profit mentoring program which began in 2015, and has helped hundreds of at-risk middle and high school students.
And when Williams sees that he is making a difference…
"It feels amazing," he said. "Our mission of the Champion Academy is literally just to help students overcome adversity to maximize their human potential. And it's so important that we're here."