The Rams' eight draft picks and 22 undrafted free agents arrived at the team's practice facility in Thousand Oaks, Calif. on Monday. The bunch of NFL hopefuls completed their physicals, received their navy blue and white practice jerseys, and were fitted for helmets and cleats to go in their first NFL locker.
TheRams.com was in the locker room to capture each rookie reaction on Day 1. Here are some of the top quotes from the newest members of the Rams: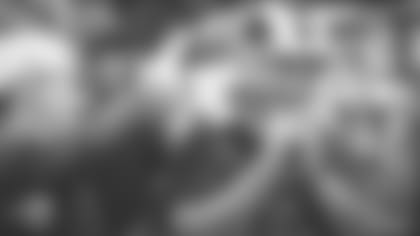 "Yeah, so I got the chance to talk to Rob Havenstein a little bit — he played at Wisconsin — and was able to bounce a couple questions off of him. He's going to be a great resource for me, and I'm really excited to learn from him and the other guys in the O-line room."
-OL David Edwards
OL David Edwards, who also played his college ball at Wisconsin, was one of the first rookies to see his name above an NFL locker on Monday afternoon. But he wasn't the only one impressed with a few of the names in his new home.
Take running back Darrell Henderson, whose locker is just two over from running back Todd Gurley.
"I mean it's just unbelievable. He's a great guy, he's a great player and he reached out to me when I got drafted and we've stayed in touch. I'm ready to learn from him."
-RB Darrell Henderson
Or big Greg Gaines, the defensive tackle out of Washington, who mentioned stopping the run as a goal for year one alongside defensive tackle Aaron Donald.
"It was pretty cool just walking around and seeing some of the names in here. It's definitely just a new experience for me and I'm ready to get started, and being on a new team — it's exciting."
-DT Greg Gaines.
The Rams' top draft pick and fellow former Washington standout, safety Taylor Rapp, is ready to learn all he can from his experienced corner of the locker room.
"I think the whole secondary is full of a lot of veteran guys, a lot of experienced guys. I think the biggest thing for me is I'm looking forward to soaking up as much for them as I can, learning as much as I can from them."
-S Taylor Rapp
For seventh rounders Nick Scott and Dakota Allen, who spoke with theRams.com after seeing their lockers full of shiny new Rams gear, were ready to talk about what they can bring to the table as a member of special teams coordinator John Fassel's unit or beyond.
"It's extremely exciting. I could just tell with the few conversations that we had that he is a guy of high intensity and high energy and I'm assuming he's going to expect the same from anyone on the special teams unit. That's something that I think I can bring to the table."
-S Nick Scott
"I'm really looking just to prove myself and why I'm a valuable member of this football team. Whether that's special teams or a backup or becoming a starter — I'm just here to prove myself and my worth."
-LB Dakota Allen
The day was especially meaningful for L.A.'s third-round selection, offensive lineman Bobby Evans, who spent his college career protecting both quarterbacks Baker Mayfield and Kyler Murray at Oklahoma. Evans said he's dreamt of this moment...
"Since I could talk. I told my dad that this is a stepping stone that I was going to knock over. I started out telling my dad that I was going to play at OU because he played basketball at OU in '95. To play there, that was an accomplishment of mine, and then I told him I was going to do all this, play ball at OU and then the NFL. So the fact that I accomplished this is a blessing."
-OL Bobby Evans
Finally there's cornerback David Long Jr., whose commute to the first day of work was a bit shorter than many of his rookie teammates. Long played his high school ball at Loyola High School in Los Angeles, drove himself up the 101 on Monday, and said he looks forward to playing close to his family after three years at Michigan.
"It's crazy just knowing that I could play a game and go to my mom's house or go chill with my little brother, or whatever the case may be. It's just a blessing."
-CB David Long Jr.
Check out photos of the Los Angeles Rams rookies arriving at the facility!