Saving lives, two at a time.
That's the heart of the non-profit Shelter to Solider that adopts dogs from local shelters and trains them to become psychiatric service dogs for post-9/11 combat veterans – at no charge.
Founder and Training Director Graham Bloem has been a dog trainer for nearly 20 years in the community.
Bloem, having worked with a number of veterans, active duty, pet dogs and working dogs recognized there was a big gap to fill.
"There's so many shelter dogs that were a better fit as working dogs and there were so many veterans in need of support that couldn't afford these high-priced private service dogs, and then we later found out the tragic statistics of veteran suicide."
Twenty veterans and one active duty military personnel commit suicide every day. That averages to a US veteran committing suicide every 69 minutes.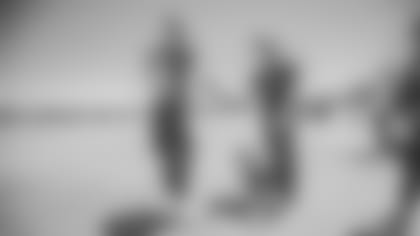 Bloem adds, "There was enough desire, passion and hope to launch the program and make it a reality so that these veterans could get help, have a companion and a best friend that was trained to help them and not have the financial burden that the cost of a service dog comes with.
"Then on the rescue side for me, it's just always been a no-brainer because I've worked in rescue for two decades and I just see all the dogs that are homeless, that need a purpose and need to find a forever home. Then we paired the two together."
After finding out about Shelter to Soldier, the Los Angeles Rams knew this was something they wanted to be a part of.
In the spring of 2018, the Rams sponsored the adoption and training of Cooper Pupp.
Bloem was in conversation with LA County rescues and went to see the dogs they recommended that might fit based on certain criteria.
"I met this adorable corgi-shepherd mix, with his obvious corgi face and in his kennel run he was one of the only dogs that had come right to the front," says Bloem.
With that personality and desire to engage, Bloem took him out to the play yard to get to know Pupp better.
Bloem completed standard evaluation tests to assess his overall temperament to ensure Pupp's friendliness with people, other dogs and zero aggression issues. He passed, so from that moment we were committed to him.
"We were insanely excited to adopt him and bring him into our Shelter to Solider family," Bloem said.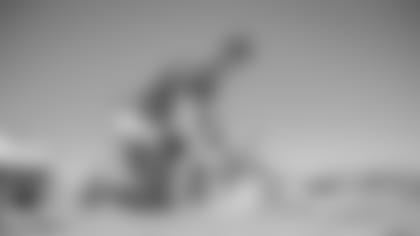 Luckily, some of the Los Angeles Rams were there at the shelter that day to see it all come together.
It was also where both the Rams and Bloem joked about how many dogs they were going to load in each other's cars and give forever homes.
"It was just so nice to see how connected to the mission the Rams organization is," says Bloem. "It was just a really genuine and amazing day that I'll never forget."
After letting Pupp get settled in for a few days, it was time to get to work.
Before the Rams training camp, Pupp had his own camp. He hopped over jumps, ran through tunnels and even chased a football.
"It just became more and more clear seeing him in work mode, that he was destined to do something greater than just being a loving pet," says Bloem.
At the 90-day evaluation, Pupp was close to becoming the perfect gentleman.
His obedience was ahead of schedule, his house manners had come a long way, he was potty-trained, sleeping through the night and had been successfully living with Bloem's family – which include four kids ages 1 to 17 years old and three dogs.
"He's loving and curious about the kids and always checking in on them, showing this strong desire to care about those around him and so he passed," Bloem said of Pupp's 90-day evaluation.
Since then Pupp has been working on obedience, control around distractions and public outings. He's gone to baseball games, musical concerts, grocery stores, shopping centers and even a Rams home game.
Bloem said since Pupp is with him fulltime they go everywhere together, including the zoo where he had to behave himself around exotic animals.
And now – because they do grow up so fast – Pupp is in the "dating" phase.
"We're matchmakers," Boem laughed.
They take a veteran's application to learn what their needs are, their struggles, lifestyle and what their day-to-day is like to try to align dogs that would match with that veteran's lifestyle and needs.
Then they start to meet each other.
It's a combination of sitting on a bench, hanging out and petting them, playing with toys, going for a walk, spending time in a mock studio apartment, or even just sitting on the ground cuddling each other to see if a bond is created.
But, Shelter to Soldier and the veteran also have to make sure they're not being blinded by "love goggles."
"They're being medically recommended to get a service animal for specific reasons, so it's really easy to fall in love with any of the dogs because they're all sweet, loving and adorable," Bloem explains. "Really the matchmaking process is specific enough to be certain that we're matching dogs that truly can make an impact and the dog is going to live a happy and full life with that specific individual."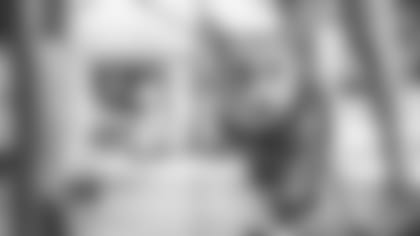 Pupp's connection to the Rams proposes a unique placement with his match potentially having to be in the spotlight, whether that be saying a few words or being at a football game.
"Over 90 percent that come to us aren't ready for that sort of level of engagement, and so we had to find an applicant that had the desire to not only fall in love with Cooper, but also understand the commitment that Cooper's placement comes with."
A vet who is further along in his own process and progress in life has met a whole bunch of dogs, including Pupp.
And, to Pupp, he keeps coming back.
The first meeting was 90 minutes where they were already hitting it off.
The second meeting was two and a half hours with the vet still not wanting to leave.
"He was just so stuck on Cooper and their partnership," says Bloem. "He was showing coworkers photos and texting me that he was thinking about him and asking me for a picture, so you could tell he was feeling really connected to him."
They scheduled another meeting that week to go on a hike, which is one of the reasons the vet loves Pupp.
"Not only are they creating a connection and a really cute bond, but he likes to hike and Cooper loves to hike," confirms Bloem.
Following the hike, it became official.
Pupp found his forever home, and the vet a much-desired companion.
"The companionship of a dog is really the only companionship that I have been completely comfortable with since serving," the vet shared. "I feel like a service dog will help me to open up more emotionally and overcome my own personal difficulties."
Bloem pulled up a photo from one of the vet's first meetings with Pupp in the park.
The vet is facing forward while Pupp is between his legs facing backwards, obeying the "watch" command.
"It's where the dog goes between the handler's legs and faces backwards, and the dog is actually watching or covering his "six" – watching his back, which is what his crew and platoon was doing oversees," describes Bloem.
The vet's response to the photo? It was the first time he can remember having someone behind him, taking a photo of him and not caring because his dog had his back, and it felt really good.
As things have coincidentally aligned between Shelter to Soldier and the Rams, it's this official pairing that has shown us it was meant to be.
Rams wide receivers Cooper Kupp and Brandin Cooks are not only great teammates but are great friends off the field.
So, the vet who Cooper Pupp found his forever home with? His name is Brandon.
It could not have been more perfect as Bloem pointed out the little things through this process that had tied back to the Rams.
The two becoming a match again proves the mission statement of Shelter to Soldier.
"I think a service dog will make the single, most important impact on my life," Brandon stated. "It will be a partnership that will allow me comfort in situations that I have had so much difficulty with and allow me to try new things in life while knowing that Cooper has my back."
So, here's to the new beginning, and knowing Cooper Pupp always has your back.