THOUSAND OAKS, Calif. – By the standards of 2017 and 2018, the 2019 season in some ways did not feature the same production Rams fans are used to seeing out of running back Todd Gurley.
However, that doesn't mean Gurley can't bounce back.
During an hour-long conversation with Rams beat writers Tuesday morning, General Manager Les Snead expressed confidence that Gurley, who just completed his fifth NFL season, can return to the levels showcased in his third and fourth seasons.
"I do know this," Snead said. "Personally, I think we've seen players have years that were less than the past, come back and actually get back to where they were. He's still a young football player."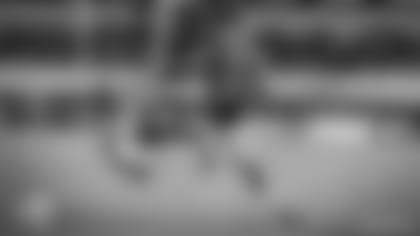 After surpassing 1,200 yards rushing in each of the last two seasons, the 25-year-old Gurley rushed for just 857 yards this season. He also carried the ball only 223 times in 2019 after surpassing 250 in each of the prior two years.
Snead attributed the decline partly to the changes along the offensive line due to injury along with opposing defenses placing a greater emphasis of stopping the Rams' rushing attack.
"What we all know in sports, if we were so successful at those explosive runs in 17 and 18, and we saw people start trying to calm it down in 18, you're not just going to sit back and do the same thing," Snead said. "It's a combination of what we have going on (and) what we need to fix. And give the enemy credit for trying to take Gurley away. That's obviously a compliment to him."
Even in the wake teams scheming to limit Gurley, the former Georgia star still reached double-digit rushing touchdowns for the third straight season with 12, moving him into a tie with Marshall Faulk for first on the franchise's career rushing touchdowns list (60).
"There were some runs when he scored touchdowns where I think we all felt the physics that Todd brings to the game," Snead said.
When it comes to examples of running backs rebounding statistically, Snead indeed has personal experience to draw upon.
During his time as a pro scout in the Falcons' personnel department, the team signed Warrick Dunn to a lucrative six-year deal in March 2002. An injury-shortened second season with Atlanta limited Dunn to 125 carries for 672 yards and three touchdowns after posting 230 for 927 and seven the year prior. However, he responded by rushing 265 times for 1,106 yards and nine touchdowns in his third. He would surpass 1,100 rushing yards in each of the next two seasons as well.
Coincidentally, Dunn pulled off a similar feat with his first team, the Tampa Bay Buccaneers. The eventual three-time Pro Bowler posted 248 carries for 1,133 yards and eight touchdowns in 2000 after 195 for 616 and zero touchdowns in 1999.
It's enough evidence for Snead to feel good about Gurley's ability to replicate his past production in 2020.
"You take his 17 and 18, there's an element of, 'Wow, how are you going to keep that up?' Not many players are going to be able to do that," Snead said. "But majority of the time, if you go back and look at the data, players do come back and and can get to a higher level than they were in their down years."