There are conversations ongoing regarding the Rams quarterbacks room as next Wednesday's free agency window quickly approaches — and that's aside from negotiating a potential extension with the club's former No. 1, who is now eligible for his second NFL contract.
With quarterback Jared Goff two years away from the end of his deal, the Rams other quarterback situation swirls around their fourth-year backup signal caller Sean Mannion, who's set to become a free agent in the middle of next week.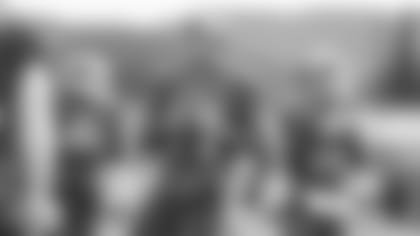 "That's a possibility," head coach Sean McVay said of drafting a quarterback to backup Goff when he was asked about the spot at last week's NFL Scouting Combine in Indianapolis. "That's something we will look into. We will talk to Sean [Mannion] and see exactly what kind of our plans are."
Mannion has taken the field 10 times in his four years as a member of the Rams and started in just one game — Week 17 of the 2017 season. The former Oregon State Beaver and third-round pick played in three games in 2018 and is yet to find the end zone in his limited action.
The Rams now have the option to either re-sign Mannion or replace the quarterbacks room regular. If Mannion walks, third-string quarterback Brandon Allen, who was on and off the practice squad this season, could potentially be second man up to Goff in 2019. But it appears likely that L.A. will add at least one quarterback this offseason.
So there could be a new backup quarterback in town in year three under McVay, and it could come by one club's seven draft picks, or by way of a shopping trip around the free agent market. To general manager Les Snead — who drafted Mannion back in 2015 — that's a hard decision.
"That's always a tougher animal to deal with, because you've got to decide between inexperience or experience," Snead said. "Maybe inexperience with upside, or experience on the downside, but has experience."
As hard of a decision as it may be, both Snead and McVay addressed the quarterback position from their "war room" in Indy — Snead, saying what he looks for in a young quarterback, while McVay explained how they could acquire one.
"I think QBs, right, can they pass the football? And when I say pass that's different than throwing," Snead explained. "A lot of people can throw it. But pass, I mean just what I explained — you've got to be able to figure out where to place that ball fast and get completions. I think mobility helps. You've got to be able to not necessarily just run for 15 yards, but navigate an unclean pocket."
"If you feel like where you could get them, based on their value, knowing that right now we've got seven picks, that's something that definitely isn't out of the question," McVay said. "But we'll have some more clarity, probably, as we get closer and as we get a chance to really look into these players a little bit more."