I asked Rams head coach Sean McVay at the end of a press conference recently, "Hey Sean, what do you think of Joe Barry's tattoo?"
He paused, smiled, and answered, "No comment."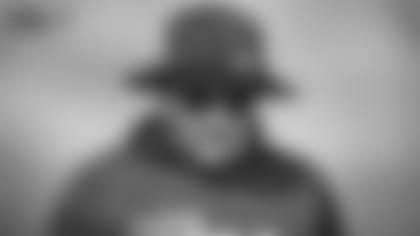 Assistant Head Coach/Linebackers Coach Joe Barry and his tattoo joined the Rams after the 2016 season along with Sean McVay, when McVay was hired as the Rams Head Coach. While "Joe B" is hard to miss with what McVay describes as "consistent energy around the building," it's also hard to miss the USC mascot -- a Trojan -- smack in the middle of Barry's left leg.
Prior to the Rams, McVay was the offensive coordinator and Barry the defensive coordinator for the Washington Football Team.
"You work very closely with your entire staff," Barry explained, "but when you are coordinators, especially like in the offseason and OTAs and Training Camp, you're working against each other, preparing against each other. You build up a pretty close relationship."
Barry said about a month into working with McVay in Washington, he knew McVay was going to be a head coach. He recalled the early morning phone call from McVay after he interviewed with the Rams. "My phone rang early in DC and Sean was out here [in Los Angeles] and he called me. He's like, 'Dude, I'm getting this LA job.' And he's like, 'I want you to come with me.'"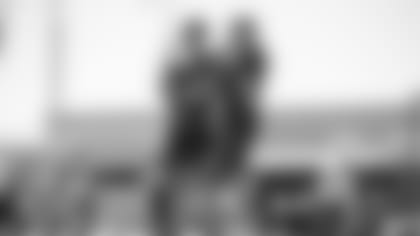 You could say these two go way back.
But even further back, in 1992, while playing football for the University of Southern California, Joe Barry and a couple of his teammates decided to get tattoos on the iconic Sunset Boulevard at a tattoo parlor named Sunset Tattoo.
"It was like six or seven o'clock in the evening. I was stone cold sober. A couple guys got like block S-C's." Barry described the Southern California letter design and added, "I wanted the Trojan."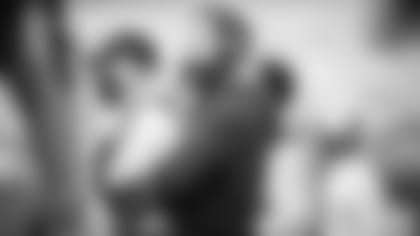 Barry played inside linebacker for two years at USC from 1992 to 1993 after transferring from Michigan. He then joined USC Football's coaching staff as a video coordinator for one year and graduate assistant for another. He returned in 2010 as the linebackers coach under head coach Lane Kiffin.
USC has always been a special part of Barry's football career, and since 1992 it's been a special part of his left leg as well.
"I was actually pissed because I wanted it down, underneath my sock line so when I wore socks, I could actually hide it." Barry said when he was getting the tattoo, he was facing away. "I had to like, stick my leg out to get it done. The dude was like 15 minutes into it and I looked back and I was like, dude, that's not where I freaking said I wanted it. I wanted it lower."
But at that point it was too late.
"I wasn't paying attention, and, you know, it's basically in between my knee and my ankle bone." Barry said.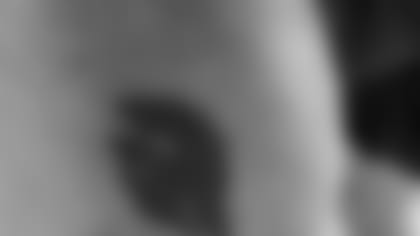 The tattoo is in the middle of Barry's left calf and it can't be hidden unless he wears pants. But Barry says he actually doesn't mind its position on his leg now. "It's kind of worked out that it's always visible, so it's kind of cool."
Much like his tattoo, Barry is always visible and in the middle of everything.
And it's not necessarily easy to stand out. McVay has said there is a "great energy" about this coaching staff. Before practice and during team warmups, you can catch running backs coach Thomas Brown "out there wheeling and dealing" on a knee walker, after rupturing his Achilles tendon. Offensive coordinator Kevin O'Connell gives us a glimpse of his glory days as a quarterback, throwing the football around with other coaches. Cornerbacks coach Aubrey Pleasant will dance to pretty much any song that comes on over the speakers to keep the energy high. And then there is Barry, right in thick of it, warming up with the team. The only way you'd miss him on the field is if you confuse him for a player.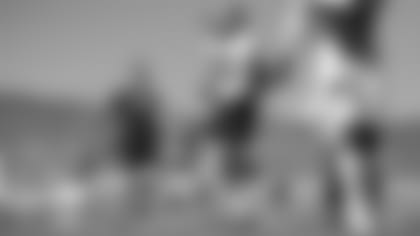 "He's a huge part of the fabric of the team and the culture of the team," linebacker Micah Kiser said. "In the NFL, with the way rosters are always moving, he is a person that values knowing every guy on the team's name. Whether you're Jared Goff to the last guy on the practice squad, he's able to call you by your name."
Not every NFL team has an assistant head coach. McVay trusted Barry with this role and asked him to wear multiple hats.
"[I'm] able to lean on him," McVay said, "and [he helps make] a lot of the decisions that are important. You truly do lean on him as an assistant head coach and I feel very fortunate to work with Joe. He brings it every single day."
As the saying goes, "There are Trojans, and then there's everybody else."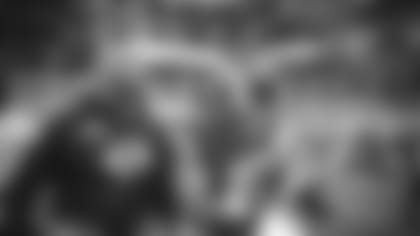 "Joe is one of those guys you always feel better after you talk to," McVay emphasized. "Joe is very special to us."
"He always got some fresh kicks on his feet, too." Aaron Donald says, "But you know Joe B is a good guy and a great coach. Happy to be working with him."
So while some players, like former UCLA Bruin and current Rams linebacker Kenny Young, joke that he's "tired of hearing Joe B talk about those damn Trojans," there is an appreciation for the fifty-year-old coach who calls everyone "stud."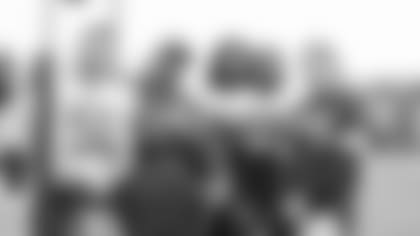 Four years after getting that call from McVay, Barry is "still rolling". 

"We came here with the goal in mind to win a world title." So, while Barry has no plans to leave the Rams anytime soon, the guy with the Trojan tattoo may head back to the tattoo parlor soon. Not for a new tattoo, but because the 1992 ink "looks terrible right now. I actually probably need to get it touched up."