Ahead of the game, theRams.com examines three keys for L.A.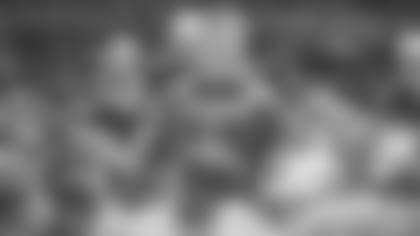 1. How does the offense look with Blake Bortles at quarterback?
The former No. 3 overall pick in the 2014 NFL Draft signed a one-year deal with the Rams in March after spending his first five seasons in Jacksonville.
During that time, the UCF product started in 73 of the 75 games he appeared in and reached No. 2 in both career passing yards and touchdowns on the Jaguars' all-time lists.
Brought in to back up starter Jared Goff, Saturday will be Bortles' first live game action with his new unit and provide an opportunity to develop a deeper rapport with his new teammates, particularly the second-team offense. Rams head coach Sean McVay said Bortles will play "a couple of series" against the Raiders.
"I look forward to it," Bortles said. "It's an opportunity for me to get a new resume on tape and for us, the guys to get an opportunity to play to go and kind of build that resume and get some good plays and some good work on tape and get a little bit of game-like atmosphere."
2. Will the Rams play their young offensive linemen?
Second-year center Brian Allen and second-year left guard Joe Noteboom are slated to start at their respective positions for Los Angeles in 2019, according to its unofficial depth chart, replacing offseason departures John Sullivan and Rodger Saffold.
Given those circumstances, especially the shoes both have to fill, it would make sense for L.A. to give Allen and Noteboom some reps on Saturday in order to build cohesiveness along the offensive line. At the same time, not many starters on both sides of the ball will likely see snaps.
McVay told reporters Thursday he would have a conversation with run game coordinator Aaron Kromer before deciding whether or not the interior linemen will play. If both players do see action, it will be limited.
"We're going to assess this tape, we're going to see what kind of work they've gotten in," McVay said. "That's something that we have not decided on. If they do, it'll just be a couple series."
Mark Barron's signing with the Pittsburgh Steelers in March put one of the Rams' starting inside linebacker spots up for grabs heading into the 2019 season.
Although Kiser is projected to start alongside Cory Littleton based on the team's unofficial depth chart, both Kiser and Hager have been alternating with the first team defense throughout training camp and thus given every opportunity to make their case for the job.
According to McVay, both players will receive snaps on Saturday against Oakland.
"Micah (Kiser) will play a quarter, we'll get (LB) Bryce (Hager) in there as well," McVay said.