THOUSAND OAKS, Calif. – Mandatory minicamp 2022 is officially a wrap.
With that in the rearview mirror, here are some of the top takeaways from that three-day period which concluded the team's offseason workout program.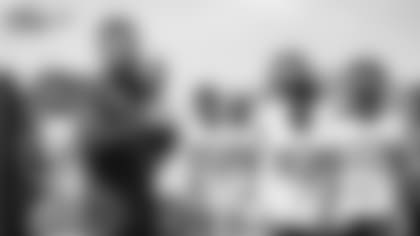 Competition at right guard
The Rams had two key voids to fill along the offensive line this offseason between left tackle Andrew Whitworth's retirement and right guard Austin Corbett's departure in free agency. They addressed the former by signing Joe Noteboom early in the offseason, but the latter remains an ongoing process.
Minicamp provided a preliminary look at some of those candidates to succeed Corbett, with rookie Logan Bruss, Coleman Shelton, Tremayne Anchrum Jr., Bobby Evans and Alaric Jackson all mentioned by head coach Sean McVay.
"I think the champagne problem, if you will, is figuring out how do you get that right guard spot, to find find the best five guys, and that continuity up front is going to be key and critical for our success," McVay said after Day 2.
On Bruss specifically, McVay said "we've liked what we've seen from him up to this point," but at the same time – in what applies to the group as a whole – it's still difficult to evaluate each player until they are in the competitive settings like training camp.
Big Whit's "open door invitation"
As a 6-foot-7 offensive lineman, Andrew Whitworth is hard to miss. Especially on the practice field where he spent so much of his time from August through January and February over the last five seasons.
Even in retirement, he is unsurprisingly still finding ways to remain around the game and the Rams. On Tuesday, he was on hand for Day 1 – not in a helmet, pads, and cleats, of course, but at the hip of several Rams coaches while watching practice.
"He's one of those guys that he's meant so much to us, so there's an open door invitation whenever he wants to come out and be able to provide some of his expertise and understanding of what allowed him to play at such a high level for such a long period of time," McVay said following Day 1.
It wasn't the first time Whitworth visited a Rams offseason workout or practice since retiring, but it certainly doesn't sound like it will be the last.
Scaling it back, but for good reason
Traditionally, minicamps last three days, but the Rams technically did two for theirs this year. That's on top of cutting back the length of the entire offseason program from nine weeks to eight.
Coming off the longest season in NFL history – the Super Bowl was played a week later than usual with the move to a 17-game, 18-week regular season – McVay felt it was a justifiable approach, between not only wanting to keep players healthy during the offseason.
On Thursday, McVay said the team would lift weights, have a meeting and then be dismissed.
"The main reason (for going from nine weeks to eight) is because we're kicking off on the September 8 game, so we report (to training camp) a few days earlier," McVay said. "So I figured, because of that, still wanted to get guys the normal five-and-a-half, six weeks break, let players, coaches, everybody get recharged while staying in a good rhythm and routine."