After finishing 2017 at 11-5 and NFC West Champions, Los Angeles earned the No. 23 overall pick in the 2018 NFL Draft. And now that the Super Bowl is over, the first round of the draft order is officially set.
The selection relatively unfamiliar for the Rams, who have only drafted at No. 23 three times in franchise history. It will also mark the first time the club will have a first-round selection outside of the top 15 since 2005.
Here's a little more about the three Rams players to be drafted at No. 23:
1977 NFL Draft: Linebacker, Bob Brudzinski, Ohio State
Brudzinski was a two-time All-Big Ten conference linebacker and All-American honoree when the Rams selected him in the late 70s. During his rookie season, Brudzinski moved to outside linebacker and recorded 37 tackles, two interceptions, three forced fumbles, and one sack in seven stars. The linebacker was named to the All-Rookie team by PFWA for his impressive campaign.
His standout year came in 1979 — when he amassed 127 tackles, seven for loss, an interception, and 14 pass deflections — as part of the Rams' No. 1 ranked defense. The club beat the Cowboys in the NFC Playoffs before losing to the Steelers in Super Bowl XIV.
But two-thirds into the 1980 season, Brudzinski walked out and never returned to the franchise. He later went on to play nine seasons with the Dolphins.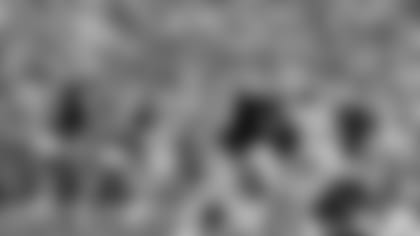 1986 NFL Draft: Guard, Mike Schad, Queens University
Schad became the first and only player in the history of Canadian Interuniversity Sports to be drafted in the first round of the NFL Draft in 1986. He spent two seasons with the Rams — playing in seven games — before being traded to the Eagles, where he finished out his seven-year career.
1990 NFL Draft: Center, Bern Brostek, University of Washington
Brostek was one of the top offensive lineman in the nation heading into the 1990 draft and was a steady member of the Rams offensive line from 1991-1997. He moved from left guard to starting center in 1992, where he started every game for four consecutive seasons.
In that span, Brostek blocked for two 1,000-yard rushers — running backs Cleveland Gary and Jerome Bettis. He was also teammates with several franchise legends like offensive lineman Jackie Slater and wide receiver Isaac Bruce. But in 1997, the lineman suffered a season-ending back injury that effectively ended his NFL career.