For Rams wide receiver Robert Woods, cornerback Nickell Robey-Coleman and linebacker Clay Matthews, Los Angeles Memorial Coliseum played host to several of their college and NFL home games and fond memories.
Heading into the final game the Rams will play at the Coliseum, the trio of former USC stars reflect on their unique connection to it.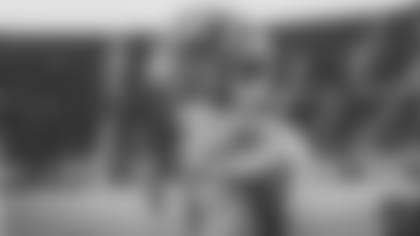 Robert Woods: "It's pretty cool"
Woods played 18 games at the Coliseum across three seasons at USC from 2010-12, earning consensus All-America honors as a sophomore and All-Pac-12 recognition three times. While Sunday will mark his 20th game at the Coliseum in a Rams uniform, it will mark an even bigger milestone in his NFL career.
"It's pretty cool," Woods said. "One of the biggest things, too, is it's my 100th game, I found out, so another added thing to it."
The Coliseum has changed some as Woods nears that accomplishment.
A $315 million renovation which started in January 2018 and was completed in mid-August 2019 added new suites and 650 video screens. The peristyle was restored, and every seat in the stadium was replaced.
"Playing in the Coliseum in college, seeing the stadium go from the mini screen in the corner to the big jumbo screen, to seeing them grow now to the suites that they have," Woods said, recalling what' has stood out to him about the Coliseum over time. "The growth of playing in it as a college player and an NFL player, seeing both fan bases, (it's) really a historical stadium."
He had a part in writing a chapter in that storied history, too, and it was one of two memories he cherished most from his time spent playing inside the Coliseum. Both of them touchdowns which occurred in the same endzone.
On October 20, 2012, Woods finished with eight receptions for 132 yards and four touchdowns in a 50-6 home win over Colorado. His third scoring grab on his 217th career catch moved him past Dwayne Jarrett for first place on the school's career receptions list. Additionally, the feat was accomplish while honoring the memory of his older sister, Olivia, who died of cancer in 2007 at age 17.
"Me breaking the record in college as the USC all time leading receiver, seeing them do the tribute during that game, having that memory of wearing my sister's socks in that game (was special)," Woods said.
The second cherished memory was his 94 yard touchdown catch against the Texans in Week 10 during his first season with the Rams.
"I want to say that was my first (NFL) touchdown (at the Coliseum), too, the 94-yarder," said Woods, who was correct. "Really just making plays in that stadium, knowing every part of that grass, the field, and getting getting a lot of wins (is what I'll remember)."
Robey-Coleman's USC career overlapped with Woods, and during that time Robey-Coleman was a three-year starter who suited up for the Trojans at the Coliseum 19 times and collected All-Pac-12 recognition three times in the process. Like Woods, he began his pro career playing for the Bills for four seasons before joining the Rams as a free agent in 2017. Sunday's game will be Robey-Coleman's 23rd at the Coliseum as a member of the Rams.
For Robey-Coleman, the Coliseum finale leaves him with mixed emotions.
"It's a bittersweet feeling," Robey-Coleman said. "I had the opportunity to come back and play after college, I get here to the league and I was blessed enough to play in the Coliseum a few more times. For it to me my last go 'round, I'm going to make it one for the ages."
He'll have some good inspiration to draw from.
Asked about his most special moment in the Coliseum, he pointed to intercepting Stanford quarterback and future No. 1 overall pick Andrew Luck on October 29, 2011, during his junior season in college. It was returned 33 yards for a touchdown to give USC a 34-27 lead with 3:08 left, though Stanford would prevail 56-48 in a triple-overtime thriller.
"That was a great moment," Robey-Coleman said. "He (Luck) actually gave me a handshake after that pick six."
Robey-Coleman has developed a routine from playing at the Coliseum so much as a college and professional athlete, so it will "definitely" be an adjustment for him when the Rams begin playing their home games at SoFi Stadium next season.
"The way I arrive to the stadium, I knew the security people there as well when I was in college," he said. "The way you enter and leave, all of that is going to be different. I was real familiar with that. When they told me we still play at the Coliseum (when I signed with them), I was like, 'Oh, that's nothing.' I knew the traffic route. I knew how to beat traffic and everything like that, but now I might have to find a new strategy."
Playing at the Coliseum is a generational thing for Matthews, who was the fourth member of his family to play football at USC.
His father, Clay Jr., was a four-year letterman (1974-77) at Southern California before playing linebacker in the NFL for 19 seasons with the Cleveland Browns (1978-93) and the Atlanta Falcons (1994-96). His uncle, Bruce, was a 3-year (1980-82) letterman offensive guard who earned All-American honors in 1982 and then played with the NFL's Houston Oilers/Tennessee Titans from 1983 to 2001. His brother, Kyle, lettered at safety on the Trojans' 2003 national championship team.
A one-time walk-on who earned a scholarship in the fall of 2006, Clay went on to earn second-team All-Pac-10 honors and honorable mention All-America honors from Pro Football Weekly during his senior year in 2008 – his only season as a starter. In addition to playing 19 games at the Coliseum in college, he also played in four straight Rose Bowls from 2005-08.
Given the family ties, it's not surprising the stadium's past is what resonates the most with him.
"There's been a lot of history for the Coliseum stemming back from, when the Rams first started playing there, and then obviously the Trojans playing there for many, many years, and then with the history of just the Coliseum in general, with the Olympics and everything, that's every sporting event or concert or motocross," Clay said. "Hopefully we can have a nice end up with a win for the fans and for the city of L.A."
Clay signed with the Rams as a free agent this summer after spending his first 10 NFL seasons with the Green Bay Packers, though he had played at the Coliseum as a pro before coming to Los Angeles. A return last year with the Packers in Week 8 preceded his six games played at the Coliseum as a Ram this season.
Like Woods, his most cherished memories come from his time in college and the pros.
"Playing in the Coliseum, you just got accustomed to the bright lights and selling out at the time (with) 92,000 (fans) when we had the No. 1 team in the nation," Clay said. "It was probably most fun to come back when I was playing with Green Bay last year because I hadn't been there in 10 years without a franchise in LA. But to go back there, I just remember it being so much bigger, it was all put in perspective. It was fun to be back in Southern California playing. Fortunately for me, a few months later I was playing for the Rams and having my home games at the Coliseum."
Closing out the season where it all began makes this weekend's Coliseum finale special for Matthews.
"It truly has come full circle," Matthews said, "and it's been a fun ride."