Seattle Seahawks
The NFC West's two postseason qualifiers in 2018 will face off twice as usual in next season's campaign for the division title.
Here's an early look at the Seahawks: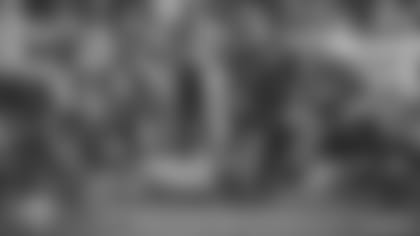 2018
The Seahawks turned things around at about the midway point last season, winning six-of-seven to claim a Wild Card spot in the postseason.
Seattle's defense looked much different than the days of the 'Legion of Boom' last season, but it did improve over the 16-game schedule to support quarterback Russell Wilson's offense and its three-headed running back monster in Chris Carson, Rashaad Penny, and Mike Davis. The trio combined for north of 2,000 yards rushing and 15 touchdowns on the ground.
Wilson threw a career-high 35 touchdown passes in year seven.
Matchup History
The Rams have won six-of-eight against the Seahawks dating back to the 2015 season and can make it four in a row under head coach Sean McVay in the first 2019 meeting.
The teams played two close ones in 2018, each game decided by fewer than a touchdown. The Rams were able to edge the Seahawks thanks to at least 300 yards passing and 149 yards rushing in each contest, not to mention a few gutsy play calls and clutch defensive stops.
But the Rams struggled mightily to stop Seattle's ground game in 2018. In Week 5's meeting the Seahawks picked up 190 yards rushing — Week 10 they went for 273 yards on the ground.
Ch-Ch-Ch-Ch-Changes
Seattle's secondary changes once again this offseason, with the departure safety Earl Thomas, who inked a deal with the Ravens, and cornerback Justin Coleman, who's headed to the Lions. Defensive tackle Shamar Stephen, who started in 14 games last season, also left the Seattle defense.
On offense, running back Mike Davis left the Pacific Northwest for Chicago and guard J.R. Sweezy joined the cross-division Cardinals.
Head Coach
Head coach Pete Carroll will hit the decade mark leading the charge in Seattle in 2019, in pursuit of an eighth postseason appearance.
Carroll is 89-54-1 in Seattle with back-to-back NFC titles in 2013 and 2014 and won a world championship when his Seahawks smoked the Broncos 43-8 in Super Bowl XLVIII.
Carroll is 9-9 against the Rams while coaching the Seahawks.
What to Watch For
The Rams defense will have two shots at redeeming their dismal showings against the Seattle run game in 2019 and it'll be with a few new faces on defense. If the Rams want less of a nail-biter against the division rivals, linebacker Clay Matthews, safety Eric Weddle, and whoever should replace defensive tackle Ndamukong Suh on the defensive line and the rest of the unit will have to slow both Carson and Penny.