Just over a month into his first offseason in Los Angeles, theRams.com caught up with cornerback Marcus Peters at his Fam 1st Family Foundation football camp in Pasadena, Calif. and had chance to ask about his first season as a Ram.
"This year has been fun as [expletive] and I'm glad I'm a Ram now," Peters said. "With me, it wasn't the best one statistically, but it was one of my best seasons because I made it to the Super Bowl. This had to be the best team that I was on, that really truly loved and cared about the whole outcome for the team."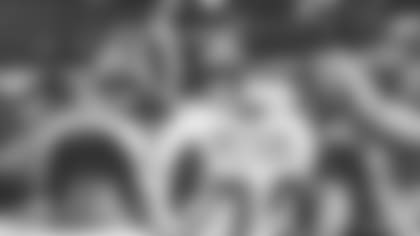 Peters emphatically broke down his first season as a member of coordinator Wade Phillips defense and the closely-covered, big-name Los Angeles Rams in year two under head coach Sean McVay, foremost addressing any notion that the added firepower last offseason would not go as planned. The Oakland native laid out the options, "There was only two ways about it, either it was going to explode or it was going to be good — you feel me?"
In a way, both outcomes were reached. Peters' Rams were both good and explosive for much of the season — from Week 1, when Peters iced the game with a pick six and celebratory ode to his cousin, Raiders running back Marshawn Lynch, to Weeks 16 and 17, when the club took care of its pair of must-win games to clinch a first-round bye.
Peters explained evidence of McVay's personnel both meshing and boosting his personal experience moving to a new club for the first time in five NFL seasons, like when the 26 year old joined fellow cornerback Aqib Talib to his own camp and got to know his veteran partner off the field — just a few weeks into their time as teammates.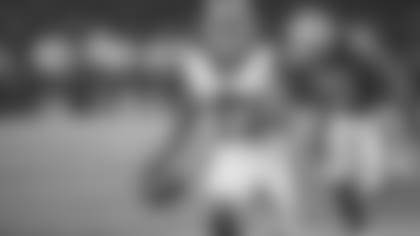 Following Week 9's loss to New Orleans, Peters faced the media after losing speedy Saints receiver Michael Thomas for at 73-yard all but game-sealing touchdown.
"After I finished talking to the media or whatever, 'Whit' was like, 'Hey that's how you stand up as a grown man. You take it for the good and the bad,'" Peters said, referring to left tackle Andrew Whitworth.
The 37-year-old captain's words stuck with Peters after the defeat and provides just a snapshot of what Peters says "the analysts" got wrong ahead of the Super Bowl season, as his up and down season unfolded safely in confines the Rams' united culture.
"The weeks of practice got better because we knew what we wanted to get done, we knew exactly where we were going with it," Peters said. "It starts with myself, I will never put myself down, but when you come into an organization when you got people like [DC] Wade [Phillips], like A.D. [DT Aaron Donald], people like [DT Ndamukong] Suh, you got 'Brock' [DT Michael Brockers], you got [QB] Jared [Goff], you got 'Whit', 'Sully' [former center John Sullivan], you got 'T.G.' [RB Todd Gurley], you have a genuine family — good people, you feel me?"
With good people and good football players around him heading into 2019 — including recent All-Pro defensive additions in safety Eric Weddle and linebacker Clay Matthews — Peters is also curious what the Rams — and more specifically his secondary — will look like on Sundays.
"That's what I want to see, because if people watch our last six [games] — something like that — five, yeah, I want to see us next year," Peters said. "I want to see what we are going to put together."