INDIANAPOLIS — When the Rams traded Robert Quinn to the Dolphins and did not re-sign Connor Barwin in the 2018 offseason, one of the overarching questions surrounding the team's defense became who is going to play outside linebacker?
Samson Ebukam was one answer, but the spot opposite the second-year player out of Eastern Washington was unsettled through the first half of the regular season — mainly due to injury. Morgan Fox was poised to take on a significant role, but tore his ACL during the OTAs. Dominique Easley came back from another ACL tear, but his knee did not hold up after the first couple weeks of the season. And while Matt Longacre showed some bright spots, the Rams elected to acquire Dante Fowler from the Jaguars at the trading deadline.
Fowler had a number of game-changing plays in the second half of the 2018 regular season. And with the Rams winning the NFC title game largely behind Fowler's pass-rushing skill that forced Drew Brees to throw a high floating ball that turned into safety John Johnson's overtime interception, that deadline deal clearly worked out in Los Angeles' favor.
But now that he's reached the end of his rookie contract, Fowler is slated to become an unrestricted free agent at the start of the new league year on March 13. And with general manager Les Snead saying that the Rams are unlikely to use the franchise tag this year, what Fowler decides to do will have a significant impact on Los Angeles' plans for that position.
"I think our biggest priority is Dante, whose contract is about to expire. What happens in that situation will determine a lot of things," Snead said on Thursday of Los Angeles' situation at outside linebacker. "We have a lot of young players. It's been good to see Samson progress. We've got Ogbo [Okoronkwo], who didn't get a shot last year, and how is he going to progress? We've got multiple of those young players that got a little bit of minutes last year but not enough."
"I think, really, the domino is Fowler," Snead continued. "We know what he can do. We know what he can bring to the table. And if he's not there, there is a void there, and how are we going to fill it? Is it going to be from within or without?"
If the Rams do not re-sign Fowler, as Snead said, they would have few internal candidates to replace him. Really, Okoronkwo and Trevon Young are the only other players at OLB currently under contract for 2019. Fox is currently an exclusive-rights free agent, as is Garrett Sickles. Easley and Longacre are slated to become unrestricted free agents.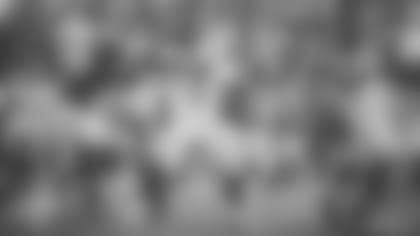 But replacing Fowler wouldn't be easy — purely in terms of his playing time. Despite appearing in just eight of Los Angeles' regular-season games, he was on the field for 41 percent of the total defensive snaps. The only games in which Fowler didn't play at least 72 percent of the reps were his first in a Ram uniform at New Orleans, and Week 15 against the Eagles.
All told, Fowler had 2.0 sacks, a forced fumble, a fumble recovery, and four tackles for loss in the regular season. Then he had 1.5 sacks, four tackles for loss, and three quarterback hits in three postseason contests.
"Thought Dante was outstanding down the stretch. I mean when you flip the tape on, especially when you're looking at it sometimes from an offensive standpoint, but really just overall, Dante Fowler did such a great job of making impact in a variety of games," head coach Sean McVay said on Thursday. "So he's definitely a guy that we're interested in bringing back but similar to Ndamukong [Suh], you know they're going to have some interest."
"But loved being around Dante," McVay added. "I thought his demeanor every single day — when you come in especially midway through the year, a guy that's engaged, he likes to practice. I mean you watch the way the guy competes, you love the kind of players that you have to say, 'Hey, slow down a little bit sometimes.' But he's got a motor and he loves football, and he certainly is talented, so definitely want to be able to try and get Dante back and that would be a big part of emphasis for us."
In some ways, Fowler's situation is similar to that of wide receiver Sammy Watkins at this time last year. As you likely recall, the Rams traded for Watkins during training camp and he was on the last year of his rookie contract. As both McVay and Snead said this week, the Rams were certainly interested in re-signing Watkins, but it became clear that wouldn't happen once Watkins' offers began to come in at the beginning of the free agency period. And after that, Los Angeles was able to trade for Brandin Cooks — a move that worked out well for all involved.
So once that so-called "legal tampering" period begins, it will likely become more clear whether or not L.A. will, in fact, be able to bring back Fowler. And then once that picture crystalizes, the Rams will react accordingly and set up the 2019 outside linebacker position for success either through free agency, trades, or the draft.
But that Fowler decision, as Snead said, will be the first domino to fall.