It wasn't that long-ago Brittany was walking through the same halls as a student that she now teaches in as a high school CTE dance teacher, as well as a cheer coach.
"I wasn't granted this opportunity when I was in high school, so being able to teach these inner-city students my love for dance is incredible," Brittany explained.
Brittany has been dancing since she was three-years-old, so being able to share her passion with her students every single day is extremely rewarding.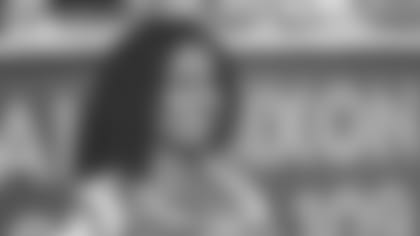 "Dancing brings so much joy and happiness into my heart. I can't imagine my life without dance," Brittany said. "If I'm ever having a rough day, I'm able to just dance and forget about whatever is bothering me. It's somewhat my escape from reality."
While she loves all styles of dance, jazz is her favorite when forced to choose.
"I just love being able to express myself through it," Brittany explained.
Brittany has spent every Sunday in the Coliseum since the Rams returned to Los Angeles.
Entering her fourth season on the squad, it's always been about the love of performing and being active in the community.
"What better way than with the Rams – who moved back to LA AND is my family's favorite football team! Aside from this, I also wanted to be in the community with them and serve as an ambassador for the team."
Brittany shared that being in the community is the best part of the whole gig. From visiting different schools, hospitals and other events throughout the City of Angels, one really stood out. The "Sleigh Ride through Watts" happens every December when the teams pairs up with LAPD in a giant Santa sled, blasting holiday music and spreading joy.
"Seeing the look on the kids' faces were priceless as we rode through their neighborhood on a sleigh throwing out candy and Rams gear!"
In her free time though, Brittany has a discovered a new love outside of dance.
"I've recently had a new found love for cooking," Brittany said. "I'm currently obsessed with finding random recipes and trying them out."
So next time you see Brittany on the sideline, in school or in the community, don't be afraid to ask what she's got cooking!