THOUSAND OAKS, Calif. – Rams wide receiver Brandon Powell was having a conversation with a woman who worked for the Boys and Girls Clubs of Broward County (Florida) – Powell and the woman's daughter lived down the street from the club when he was a kid, so he's known her for a long time – when the topic of the cost to see a movie came up.
"She watches the games, and she was talking about how tickets were so expensive now for kids to go see movies," said Powell, a Deerfield Beach, Fla. native. "It was like $20 or something for a kid, and I was like, 'Man, I remember when it was $7."
It would serve as the inspiration for Powell to rent out a movie theater for about 90 youth from that very club on Wednesday to treat them to a screening of "Avatar: The Way of Water."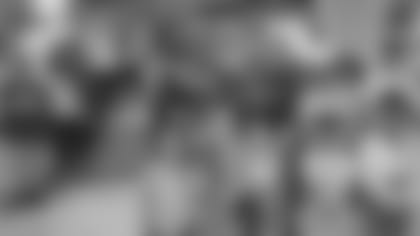 Being an example like that to kids back home has long been important to Powell. He regularly relays that message when he writes "Be You" on the eye black he wears on gamedays as a reminder to them to just be themselves if they want to make it out of their situation.
Powell said what really put the importance of giving back in perspective to him was the recent medical emergency experienced by Bills safety Damar Hamlin, whom Powell got to know when both were with the Bills during training camp in 2021.
"Man, you're just grateful for the things I get to do every," Powell said. "You got some people that are in unfortunate situations. Like, some of those kids, they don't really know how it is in the world yet, so just try to give back, because I was in that position not too long ago. Just trying to help them out, help them see better things in life than what goes on in the neighborhood."
Powell couldn't be there to watch the movie with the kids, but is intent maximizing his time this offseason to do more fun events like that in the future, such as renting out Boomers or Dave & Busters for them.
"Four months man, no playoffs, so I got a long offseason to take kids to Boomers, take them to Dave & Busters, rent out water parks for them back home," Powell said. "Because we got a lot to do in Florida, and a lot of kids now can't afford it, so just make sure that they're having fun, they're enjoying life the way I get to enjoy my life, too."