New Rams defensive coordinator Brandon Staley's college playing days consisted of preparing against the side of the ball where he has spent the majority of his coaching career so far.
Unorthodox as the quarterback-turned-defensive coordinator route may seem, it has played an instrumental role in his career and uniquely shaped the approach to his job.
"What being a quarterback has done is really opened up my lens, and from a defensive perspective, try and get the player to understand what he's looking at and how they're operating," Staley told theRams.com. "And so, it's really meant a lot to me in my career. I would say that it's been the biggest benefit for me."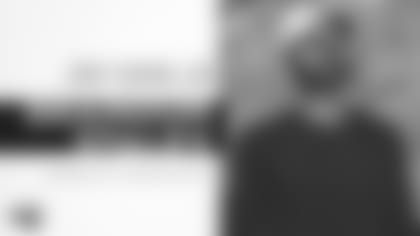 The decision to make the switch, according to Staley, was not his but former Northern Illinois head coach Joe Novak's.
In 2006, Staley joined Novak's staff as a defensive graduate assistant after his college career as a quarterback concluded. According to a story published on broncos.com last November, Novak loved that angle because a quarterback is responsible for all 22 players on the field.
"You have to command the huddle, you have to be able to reach everybody on the team," Staley told broncos.com. "And as a defensive graduate assistant, that's kind of your role. You're running the scout team, you're kind of the quarterback of the scout team. He really liked that."
Novak's guidance paid off, as Staley was named 2016 FootballScoop Division III Coordinator of the Year in his final season overseeing John Carroll's defense 10 years later. The award's recipient is chosen by previous winners. The Blue Streaks ranked fourth nationally in scoring defense, sixth nationally in pass efficiency defense, third nationally in total defense and 13th nationally in rushing defense that year.
At the professional level, it remains a prudent approach as NFL offenses evolve and attempt to exploit defenses by spreading them across the line of scrimmage and creating mismatches in space.
Take, for instance, the 2018 season when all 32 NFL teams combined to score a new league record 1,371 touchdowns and the second-most total points with 11,292, according to a January 2019 article by the New York Times.
"A quarterback is responsible for all 22 players on the field," Staley said. "As a defensive coordinator, when you operate like that, you know the tempo and the rhythm that you have to be able to function at to be able to compete with these guys. There's only 32 starting quarterbacks in the world and they're all really, really special. So if your defenses can't operate at the same speed that the quarterbacks and the offenses do, then you're just going to be behind."
Perhaps it's no surprise that a former quarterback sees communication as a cornerstone of his defensive philosophy, and Staley has current Broncos head coach Vic Fangio to thank for that.
Fangio gave Staley his big break into the NFL, hiring him as outside linebackers coach for the Bears defensive staff in 2017. When Fangio departed two years later to become the Broncos head coach, he brought Staley with him to fill the same position in Denver. Staley credits those three seasons working alongside Fangio for accelerating his growth as a coach.
"You got to think about being a great teacher for your players, and I think that's something that Vic is exceptional at," Staley said. "To be a defensive coordinator in the NFL for over 20 years and to do it at the level he's been able to do it at and now as a head coach, to have that type of consistency, you have to be a really good teacher, you have to be a really good communicator. You have to be someone that people believe in, you know, as a leader."
Staley said there won't be "wholesale changes" to the Rams defense.
The 3-4 scheme will remain, and the transition sounds a lot like the one he made at the beginning of his coaching career.
"The roles and responsibilities of a lot of the guys is going to remain the same, just, schematically, and maybe fundamentally, situationally, there'll be some some new things for them," Staley said. "But in terms of the jobs that they're going to be doing, they're going to be doing the same job. So I think that gives the players a lot of confidence to know that, 'Hey, I'm going to be performing the same role. Just maybe a little bit different.'"