A couple years ago at the NFL Combine, general manager Les Snead was first asked about the possibility that defensive tackle Aaron Donald could receive a contract extension. 
This was back in early 2017, when Donald had just completed his third season in the league and was just barely eligible to receive one. 
We all know how that story turned out — with Donald not attending training camp for two consecutive years but still receiving a lucrative extension just before the start of the 2018 season. And, oh by the way, Donald is now a two-time AP Defensive Player of the Year, earning the honor in both 2017 and 2018.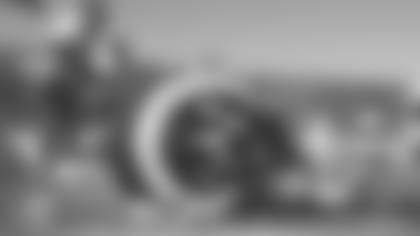 But while Snead started his 2019 Combine press conference by joking that Donald will be attending training camp in late July, Snead was asked about two specific players and possible extensions at this year's combine: quarterback Jared Goff and cornerback Marcus Peters. 
Goff's situation is a bit more like that of Donald back in 2017, in that he's just now eligible for an extension after the third year of his rookie deal. But given the fifth-year option of Goff's No. 1 overall pick contract — which the Rams are surely going to pick up — his deal really isn't up for another two seasons. In that way, there isn't as much urgency to Goff's situation, even though he could get an extension at some point. 
As for Peters, he's under contract with his fifth-year option through the 2019 season. So he's also eligible for a new deal, but given that he's not up right at this point, a Peters extension also woudln't qualify for urgent business in March. 
"Usually what we've done in the past is when we do extend players who, let's call it, aren't up for free agency — we usually get through this upcoming free agency, upcoming draft and we start thinking about those things in the summer," Snead said last Thursday. "But right now, we'll through the next few months look at the more urgent business matters."
Extensions in the summer — that's what the Rams did last year with wide receiver Brandin Cooks, running back Todd Gurley, and right tackle Rob Havenstein to keep those key players in L.A. for the foreseeable future. And given the way Goff and Peters' contracts are currently structured, it stands to reason that it's when they could possibly be addressed, too. 
Specifically on Peters, Snead said that the Rams have had discussions about a long-term deal — both internally and with the player's representation at the time of the initial trade. 
"Because his situation is a little less urgent on the timeline — because it's not running out here in March — what we like to do is, hey, let's take care of the urgent business first, and then get through it," Snead said. "At that point, you've got to recalibrate and see where you stand. Many variables — dollars and budget being one — and then you get to the summer months and start talking about, OK, is there the Rob Havenstein? Is there the Brandin Cooks that you'd like to get done?"
But given that both Peters and fellow starting cornerback Aqib Talib will have their contracts expire at the end of 2019, Snead called cornerback "definitely a position we're going to scrutinize." 
"I think the way we'll do it is, we'll have a priority of position we should target. Now, where we're picking at 31 … it's a lot harder to gauge who is going to be there," Snead said. "Nowadays, it's like, OK, you can probably guess the top 10 to 15 [draft picks], but after that, the order gets a little funky and harder to figure out. So I think what we've got to do is be disciplined and go, let's call it, within a specific amount of positions if at that pick, or let's say we want to trade back into the second round or something and acquire more picks — you then take who you subjectively think is the best player available at those positions. Because if you go into it with one position, that's usually where you reach. Or maybe you get lucky and the position you really need is sitting there, but you always want to guard against, if you call it, the cognitive bias that comes into play."