Countdown to Camp is a series breaking down the Rams roster by position group heading into the team's first open training camp practice. The sixth installment examines the wide receivers.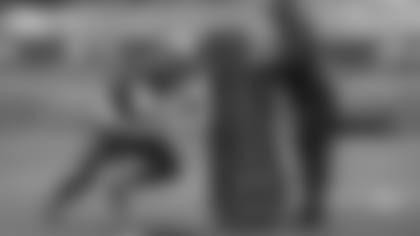 The circumstances surrounding the Rams' wide receiver room are similar to the defensive line room.
The group's most experienced player – Cooper Kupp – is expected to be ready to go for training camp practices, Rams head coach Sean McVay said on June 13. Having witnessed the 2021 season and what Kupp's connection with Stafford meant to Los Angeles' offense, the importance of having both healthy for training camp is critical and will make a big difference.
"We haven't had (WR) Cooper (Kupp) out practicing in these competitive settings, so when we get back to camp, he'll be ready to go," McVay said after the Rams' minicamp practice on June 13.
Beyond Kupp, it will be a fascinating training camp for several other wide receivers as well.
Van Jefferson enters the final year of his rookie contract with an opportunity for an expanded role as the No. 2 receiver in the rotation after the Rams traded Allen Robinson II to the Steelers earlier this offseason. Ben Skowronek showed last season he could be a versatile piece motioning from the slot to fullback out of 11 personnel at times. Tutu Atwell recorded the first touchdown catch of his career when he hauled in a 62-yard pass from Stafford against the Saints, flashing the potential he showed as a standout in last year's training camp. Lance McCutcheon primarily contributed on special teams in the 10 games he played last year, but had a strong preseason.
And then there's rookie fifth-round draft pick Puka Nacua, whose ability to process information and translate it to the field during OTAs and minicamp drew praise from both McVay and Kupp and will have him in position to compete for a role during training camp and the preseason.
"He's a guy that we're expecting him to come in, expecting him to be able to contribute and compete," McVay said on June 6. "Every spot is going to be earned on this team, but I really like what he's done and I think it's a credit to everybody around him and his conscientiousness."
L.A. also signed Tyler Johnson and Demarcus Robinson during OTAs. McVay said they were initially brought on because Jefferson and Skowronek had not been able to participate during some of their competitive periods during those spring practices, but also indicated Johnson and Robinson would also be competing.
"There's been some days that we've limited Van's workload and then Ben hasn't been out here, so that kind of was a big catalyst for why we ended up doing it," McVay on June 13 said of signing Johnson and Robinson. "But those guys are going to really push, and I like what I've seen from them so far."