We've reached the end of our Countdown to Camp series with the game's most important position at quarterback.
Rookies report to UC Irvine on Wednesday and veterans on Friday before the team's first practice on July 27.
So without further ado, here's a look at the Rams' group behind center.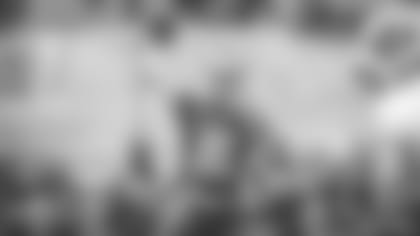 After years of the position being in flux, the Rams traded up for the No. 1 overall pick back in 2016 and used it to select Jared Goff. While his rookie year didn't go how anyone would have liked, Goff has been one of the most productive signal-callers in the league over the last two seasons under head coach Sean McVay.
In 2017 and 2018 combined, Goff threw for 8,492 yards with 60 touchdowns and just 19 interceptions in the regular season — good for a 100.8 passer rating. Goff's also averaged 8.2 yards per attempt and 12.9 yards per completion over both years, too, as Los Angeles finished No. 1 and No. 2 in scoring.
Those years, however, came with John Sullivan as Los Angeles' center — and Goff frequently complimented Sullivan on the way the veteran would help set up the offense for success with his calls at the line of scrimmage. Sullivan is no longer with the team, as second-year center Brian Allen is expected to take over the starting duties. And that means Goff should have some expanded responsibility at the line with his young center.
But that's an expected step for a quarterback progressing into his fourth season in the league. Training camp will be a good measuring stick for how both Goff and Allen will handle the change.
Behind Goff, Los Angeles brought in Blake Bortles as a backup this offseason in order to elevate the position. Bortles has known success in the NFL, particularly the 2017 season when he led Jacksonville to the AFC Championship Game. Bortles has 73 career starts and has thrown 103 touchdowns over five seasons as a pro. He'll likely see plenty of action during the preseason.
Brandon Allen — another former Jaguars draft pick — has been with Los Angeles for the last two seasons as the club's third quarterback. With Bortles on board, Brandon Allen likely slots into that role once again.
Los Angeles also singed quarterback John Wolford for depth. Wolford played his college ball at Wake Forest before signing with the Jets last year as an undrafted free agent. He then started seven games for the Arizona Hotshots of the Alliance of American Football, completing 63.1 percent of his passes for 1,617 yards with 14 touchdowns and seven interceptions.
PREVIOUSLY ON COUNTDOWN TO CAMP