Each weekday, theRams.com will be taking a look around the internet for the top Rams headlines of the day. Here's a look at what's out there for Wednesday, April 10 about your Los Angeles Rams.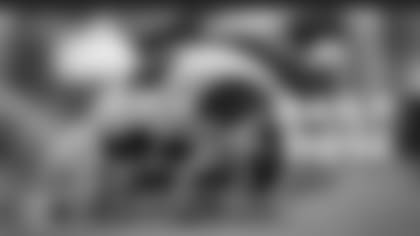 In the name of this month's NFL Draft, ESPN's NFL Nation reporters took a look back at each team's 'shoulda woulda coulda' draft moment over the past five years, and proposed a do-over pick.
For the Rams, Lindsey Thiry says if only the club would have swapped their No. 2 overall selection in 2014 for one of the league's superstars.
Actual pick: Greg Robinson, OT, Auburn, Do-over pick: Odell Beckham Jr., WR, LSU - "The Rams needed to draft an offensive tackle in 2014, but Robinson was a complete bust. After three disappointing seasons, the Rams signed veteran Andrew Whitworth, then traded Robinson to the Detroit Lions for a sixth-round pick. And to think what might have been. Also on the Rams' list of needs in 2014? A wide receiver. With the second overall pick, they could have selected Beckham, a head-turning playmaker who would turn into a star on and off the field with the Rams' eventual move to Los Angeles and the eventual hiring of offense-minded coach Sean McVay."
The Rams will pick seven times in the 2019 NFL Draft and hold one first-round pick at No. 31.
CBSSports.com's Jason La Canfora has sorted the NFL's quarterback field into seven tiers for 2019, ranging from Tier 1: 'Bona Fide Franchise Quarterbacks' to Tier 7: 'The Verdict is Out.'
Quarterback Jared Goff is considered a 'Rising Star' as a member of the third tier for a second-straight season — despite taking the Rams to Super Bowl LIII in his third year.
Tier 3: Wentz, Sam Darnold, Goff, Garoppolo - "With the Rams now the hunted and with Todd Gurley's health a subject of debate and conjecture, will Goff take another leap forward? Even with the genius of Sean McVay behind him, I'm not certain he joins the truly elite. There are some limitations. If all goes well, guys in this category could have Pro Bowls and accolades in their future."
Pro Football Focus put together a list of the Rams' top tackling grades from 2018. Safety John Johnson led the unit, recording 119 tackles in his second professional season.