AGOURA HILLS, Calif. – Stitched on the white towel tucked into his jersey are five black characters:
Play for Wilbert Gail Hardy.
For Rams rookie outside linebacker Daniel Hardy, it's a small but simple, permanent reminder of not only honoring his father's legacy, but a promise that son made to father that he is still working to fulfill.
It also took an already tenacious work ethic to another level.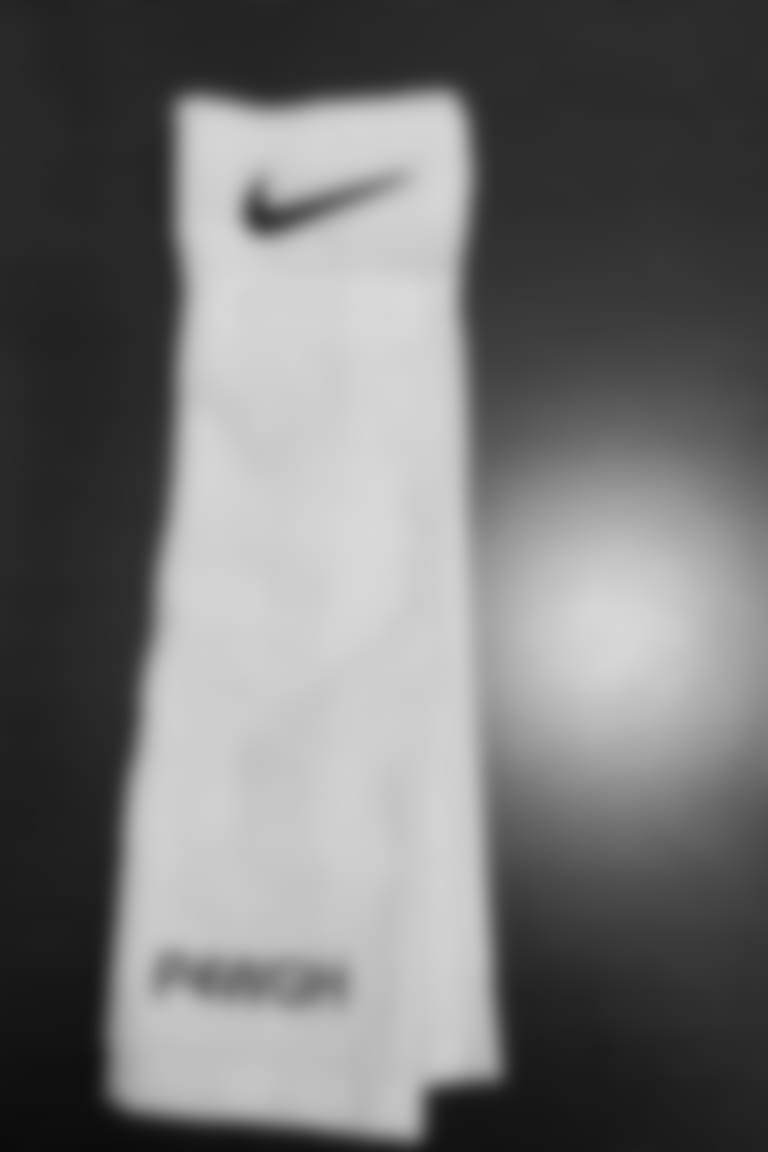 ---
---
Wilbert had a church to build, and he wasn't going to do it alone.
So he enlisted the help of his wife, Ali, and their children.
Cleaning up this, running the projector, handing out that, you name it.
"Everybody had a job that they could do, and he always reminded them that they were working for the Lord," Daniel's mother, Ali Hardy, said.
The Hardys instilled that work ethic in their children in other ways, too. Each child had chores to do, and if they didn't have anything to do, W.G. helped them find something.
"You didn't get up in the morning and just sit around and watch television, you had something to do," Ali said. "And if you finished early, or if you weren't doing something, Dad always found something for you to do."
Daniel seemingly didn't need much help staying busy, though, not afraid to seek out work on his own.
When he was 12 years old, Daniel had an older brother who worked at McDonald's. Daniel would go in with him, and each time Daniel saw the manager, he would ask if he could work there – unaware he had to be at least 14.
So, the night before he turned 14, Daniel went in with his brother and told the manager he would be turning 14 the next day. The manager left to grab an application, came back and handed it to him, then told him to bring it back tomorrow.
Daniel got the job and held it from eighth grade to his freshman year of college.
"That's true," Ali said. "And they would call him and say, 'Are you available? Can you come up?' They really appreciated the work he did there and they were very sorry when he left."
That determination displayed itself in other ways, too.
Daniel rode his bike often and did tricks on it. While he had several older brothers, it did not deter him from playing basketball against them and always competing with them – never mind the seven-year age gap between him and the last-oldest brother.
"The kids were forever dragging him in skinned-up and banged-around, but he never stopped," Ali said. "He would get bandaged up and go back out and continue to do it until he achieved what he wanted. And that was always amazing to me. I couldn't believe (as) a little kid, he just stuck with it until he achieved the desired effect."
---
---
That fire would serve Daniel well in high school, where he initially played basketball.
When he joined former Valley Catholic head basketball coach Joel Sobotka's program, he was very athletic but raw, according to Sobotka.
"Just a bundle of energy," Sobotka said. "Just bouncing all over the place."
However, what stood out the most about Daniel to Sobotka was Daniel's desire to hear the truth about how he could get better.
"He had a really steadfast mindset about how to improve and go about working to get better," Sobotka said. "He wanted to hear the truth, he wanted to hear the reality of where he could be. He was more athletic than anyone in our program, he could dunk, he could do these things, but it was like, 'Okay, what are the other things that I need to do if I want to take my game to the next level?' He was so open to coaching."
Daniel took that to heart off the court as well.
Sobotka remembers a conversation the two of them had during Daniel's freshman or sophomore year of high school about school and sports, and how his on-field performance doesn't matter if he's not taking care of business in the classroom. From that moment on, Daniel was "spotless in that regard," according to Sobotka, even while having to drive himself and his younger sister nearly 45 minutes to school from home.
With work in the classroom on track and basketball going well, Daniel eventually decided to try football.
Valley Catholic head coach Nick Hegwood was actually already familiar with Daniel, having first met him at an open gym for basketball during Daniel's freshman year (Hegwood also coached basketball at that time). Like Sobotka, Hegwood immediately noticed Daniel's athleticism, but Daniel also impressed by fearlessly going right at older players.
Since Daniel was a basketball-first kid, Hegwood wanted to make sure he focused on his schoolwork and improving his game. However, it wasn't until after Daniel's junior that Hegwood finally convinced him to come out for football.
"I think the constant pestering by myself, my offensive coordinator and his teammates finally wore him down," Hegwood said via email.
The persistence and patience ultimately paid off. In that lone season, he was an all-state wide receiver and linebacker, a two-way performance highlighted by accounting for all three of Valley Catholic's touchdowns – including the game-clinching score, an 85-yard interception return for a touchdown – in a 20-7 win over Scappoose – a team Valley Catholic lost 72-7 to the previous season.
"After that game, I think he we all realized that he was only scratching the surface of his potential," said Hegwood, who had also nominated Daniel for both offensive and defensive player of the year in the school's league because of how much of a natural he was on both sides of the ball. "I emailed as many colleges as I could with his film and didn't get anything back until I emailed Siskiyous, and they jumped at it."
Daniel was still raw, so his only scholarship offer was a partial one to play basketball at Division II Western Oregon. He instead opted to go the junior college route, heading to the aforementioned College of the Siskiyous in Weed, California. His 66 tackles (12.5 for a loss), nine sacks, three forced fumbles and one fumble recovery as a sophomore in 2017 led to a transfer opportunity and full scholarship to Montana State in 2018.
Similar to his senior year of high school, Daniel's production and potential displayed was impressive – so much so that Siskiyous head coach Charlie Roche believed Daniel would've been a Pac-12- or SEC-caliber player had he stayed at the school for another season.
Even with that performance, Daniel already had plenty of motivation to reach greater heights.
---
---
The play is an out-of-bounds one called Wide 2, and the video clip of it is still kept on Sobotka's phone.
Not necessarily because it results in a one-handed, alley-oop slam by Daniel off of a lob, but for the reaction afterward from Daniel's father.
"The crowd kind of went nuts, everybody was stunned," Sobotka said. "And as the camera pans going back, our camera person going back on defense, his dad was sitting right in front of the camera and he stands up. I've always told Daniel, I'll send that to him once in awhile because that to me is an encapsulation of him. Not only his dad's journey and just tremendous courage and fight through cancer to be at that game, to come even when he's not feeling good and he's going through so many things and treatments, but to see that moment where Daniel rose up and made that play, but (also) to see that pride in his dad that day, I could just feel it."
According to the Portland Observer, Rev. W.G. Hardy Jr. was a third-generation preacher from a family of church pastors. The senior pastor of a small northeast Portland church, he helped grow the diverse Highland United Church of Christ from a small church to one of the area's largest. Regarded as a humble spiritual leader from Portland's African American community, W.G. would also give sermons so dynamic, they even occasionally included him doing splits and stage dives.
So when W.G. in February 2015 told the congregation he had been serving for 19 years that the cancer had spread from his kidneys to the rest of his body – despite getting a kidney removed – leaving him in pain and without much time left on this Earth, it stunned the community.
W.G. lived for three more years before passing away in early February 2018 – during Daniel's sophomore year of college – leaving behind Ali, Daniel, and Daniel's seven siblings.
Before W.G. died, Daniel made a promise to him.
"Honestly, at that point, I was kind of just playing football for fun, you know? To try and pay for college," Daniel told theRams.com in May. "But after that happened, I made that promise. From there, the goal was, no matter what, I'm gonna be able to take care of my mom, whether it's with a degree or if someday I happen to make it into the NFL."
Those days going to 5 a.m. workouts when it was 20 degrees below zero in Montana, with five feet of snow on the ground, feeling bad for himself as he was getting ready to put weights on the back squat bar?
Nothing compared to what his dad endured during his battle with cancer.
The cancer that spread throughout W.G.'s body indeed started in W.G.'s kidneys, but when it spread throughout his body, it also spread to his lungs. Daniel said it made W.G. so uncomfortable, he estimates W.G. didn't get more than two or three hours of sleep per night.
"And I watched him get up every day and go to work to make sure we were taken care of," Daniel said. "So to me, if he can handle something like that, being in the insane amount of pain that he was and still be able to get up and go to work every day, I can handle anything that this world throws at me, because I'm perfectly healthy. There's nothing wrong with me."
---
---
When Daniel first joined Montana State, he started out on the kick teams on special teams. He excelled in that role so well, his coaches quickly realized they needed to find other ways for him to make an impact, so they began giving him more responsibilities in scrimmage situations.
And as he developed in college, he leaned on the familiar desire to hear the truth and willingness to learn he displayed in high school.
Daniel started out at outside linebacker to the field – also known as the SAM linebacker – and was struggling with pass coverage and responsibility, as well as run coverage and run fits. Even with practice in the morning, school during the day, and position meetings in the afternoons and nights, he would stop by then-safeties coach Kyle Risinger's office and go over coverages to try to understand the basics of what his coaches were teaching.
"I mean, he was probably third or fourth string, he was a scout team guy," said Risinger, who also served as co-special teams coordinator. "But he was kind of sick of his role and wanted to improve, and he just asked if we could start from day one and go over the basics, so he can get a better understanding. That attitude towards everything, no matter what his role or situation was on the team – 'Okay, what could I do better? What could I do next and put everything into that?' – that's the type of kid he is. No one else from a different position group had ever came to me and talked to me about wanting extra meetings on coverage and pass responsibilities and all that stuff."
As Risinger learned this about Daniel, he also learned that Daniel could be, well, stubborn. But in a good way.
While putting together his impressive 2021 season, Daniel still kept his role on special teams. The coaching staff tried to pick spots before going back on defense where they could potentially get Daniel a breather, but Daniel would never let them take him off the field.
"He never took a snap off like that, and he would get upset," Risinger said. "What he told me was that this was his first role when he first got here, and it didn't matter if he was a starter or playing every single down, he wanted to make sure that he was better when he left than he was when he started here. He kind of had that sense of pride where that was his first job and first role here, and wanted to finish the job."
The same drive that would be needed again as he took on a bigger task.
When Daniel arrived on campus, he stood 6-foot-3 and weighed 210 pounds – quite a ways away from the 6-3, 240 frame he had as a senior last year.
A new coaching staff arrived in 2021, and along with it, a scheme change from a 3-down front to a 4-down front. Defensive line coach Shawn Howe said they watched film on all of the outside linebackers to determine where they fit best in a 4-2-5, 4-3 scheme – was this player a defensive end, or an inside linebacker? In Daniel's case, he was such a good rusher and edge player, they felt defensive end was the best fit.
Daniel had done his research on Howe, too, and knew he had coached players who made it to the NFL, so he wanted to know what it would take.
He was met with a humbling – but equally motivating – answer.
"And I told him, I said, 'Look, Daniel, first off, you're not even big enough to start having that talk," Howe said. "I don't even think you could play outside linebacker at the weight you're at, I don't think you can play d-end. And he said, 'Okay, well how much do I need to weigh?' And I said, 'You need to be 245 pounds next year to really truly put yourself in a conversation for outside backer.'
"Immediately, he started eating like the most disciplined thing I've ever seen."
Daniel said putting on that weight involved eating "really just anything and everything" because he loses weight so quickly. It was the same thing over and over again: Two packages of oatmeal in the morning, then a bowl of cereal, a bagel and some juice once he got to the facility. After practice, eat breakfast again. Sometimes he would have to wake up during the night and throw in an extra meal, like a peanut butter and jelly sandwich or a 1,300-calorie shake before bed.
Howe said Daniel would set an alarm for 3 a.m. every night so that he could wake up each night, eat, and then go back to bed. Daniel would also send Howe a picture of him on the scale every single day.
"Whatever it takes," Daniel said.
Not only did it fuel critical muscle growth, it also set the stage for an incredible 2021 season in which Daniel recorded the sixth-most sacks in the FCS (16.5) and the third-most tackles for loss (24.5) in Montana State history after making the switch from outside linebacker to defensive end. He was recognized accordingly as a Second Team All-America by HERO and Stats Perform and First-Team All-Big Sky selection.
---
---
While Daniel made that promise to his family, he has always cared for others.
In high school, that was wanting to make everyone around him better by spending extra time working with younger teammates to help them improve, as Hegwood shared. That was also challenging his teammates to do it the right way by not only leading by example, but also putting himself out there, willing to trust others, and asking Sobotka what more he can do or what else he can work on.
That also applied off the court and off the field as well – even after one of the biggest moments of Daniel's life.
Sobotka was in Arizona during draft weekend after the recent passing of his father following his father's battle with cancer. On Day 3, he was at his brother's house watching the draft and explaining to his sister-in-law how it was a "minor miracle" Daniel has a chance to be selected because of how hard he's worked to get to that point. As they were talking, Daniel's name popped up on the TV on the patio where they were sitting, and Sobotka's sister-in-law pointed at the screen.
"Isn't that him?" she said.
"And I was like, 'Oh my gosh.' I just, like, screamed," Sobotka said. "And I was like, 'You're kidding me.' I couldn't believe it. It was a pretty emotional time, with my dad's situation, and I just started crying and sent him a text."
Sobotka's dad knew Daniel from when Sobotka coached him in high school because Sobotka talked about him often. Daniel would send Sobokta texts throughout the whole process and also pray for Sobotka and his dad.
The Friday after the draft, Sobotka's family held the funeral service for their dad. When Sobotka arrives at the church, he sees all the flowers people sent.
"Then there's this huge, beautiful bouquet with these orange and just huge, gorgeous flowers," Sobotka said. "And I look at the note, and it's from Daniel and the Hardy family, and I'm just, like, stunned. I sent him a text after, and he just said, 'Coach, I'm sorry we couldn't be there, but we wanted to make sure you knew we loved you and were there for you and thinking about you.'
"With everything he had going on at that moment in his life. But that's just who he is."
Appropriately, family and coaches joined Daniel for his draft party, and after he was selected, he made a point to turn his phone horizontally so several of those celebrating with him were in the picture during his post-selection video conference.
Of course, Daniel knows the work is not done simply because he got drafted. Just like at Valley Catholic and Montana State, he knows his role – whatever it may be – must be earned.
"Make the team," Daniel said, when asked what his goals were. "Do whatever it takes. I know I was a late-round draft pick, a guy from a smaller school, so got a lot of people betting against me. But just maintain that same level of hunger and passion for this game. Bite, scratch and claw for every single inch I can get. Do the little things – be the first guy to show up, sitting in the front row taking notes. Special teams, I don't have a single issue with that."
After the Rams rookies signed their first NFL contracts, they were surprised with messages from their families.
Fittingly, Ali chose to read a past note W.G. wrote Daniel:
In the years to come, you will discover your true gifts and purpose in life.
You have made your parents very proud of you and your success. I believe and pray that you will continue to keep the name Hardy honored and respected. There is only one Daniel, and there will never be another like you.
I love you son, more than words could ever express, and please know, you bring me great joy.