CINCINNATI – While the Rams fell to the Bengals 16-7 at Paycor Stadium in their preseason finale, there were still some bright spots and notable observations.
Here are five takeaways from the contest: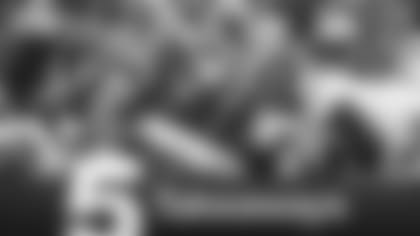 1) Kyren Williams dresses but does not play; Jake Funk handles bulk of the workload at running back as a result
While Los Angeles planned to play the rookie running back against the Bengals, those plans ultimately changed. Williams was in uniform (without helmet) but did not play, which led to Funk starting and handling the majority of the carries. Trey Ragas also got some snaps at running back.
2) John Wolford dresses but does not play; Bryce Perkins handles the workload at quarterback as a result
Wolford injured the thumbnail on his throwing hand in the first joint practice with the Bengals, make his status for Saturday's preseason finale to be determined. Although Wolford dressed, he did not throw any passes during warmups and ultimately did not play, leading to Perkins getting the start and playing quarterback the entire game.
Perkins' 3-yard rushing touchdown early in the fourth quarter accounted for the Rams' lone points of the contest. He had 8 rushing attempts for 33 yards overall in addition to that touchdown, and went 14 of 19 passing for 143 yards.
3) Lance McCutcheon continues to shine
The undrafted free agent signee out of Montana State hauled in an impressive 32-yard catch to set up Perkins' touchdown run early in the fourth quarter. He finished with five catches for 76 yards.
4) Garrett sees first action of the preseason
A training camp groin injury prevented outside linebacker Chris Garrett from playing in the first two preseason games, but on Saturday, he was healthy enough to get the start opposite Keir Thomas.
5) Snyder reps at right guard with Bruss out
Prior to suffering a season-ending knee injury last week against the Texans, Bruss had been starting at right guard in the preseason. In wake of that, it was Snyder who took his place for the preseason finale.