Los Angeles will complete its pass through the AFC West on Monday night, with its third primetime game of the season — this one unexpectedly held in L.A. — against the Kansas City Chiefs.
The Rams and Chiefs will meet for the first time since the teams shared the state of Missouri back in 2014, in what has been looked to as one of the most anticipated games of the season. 
Sitting atop the NFL, the pair of 9-1 clubs have put up top offensive numbers, demanding the attention of the league and beyond with their high-powered and fun-to-watch offenses — each led by a quarterback who provides weekly glimpses into the future of the NFL and his respective franchise.
The L.A. Memorial Coliseum will play host to a matchup that has the feel of a certain early-February game, despite the calendar reading only November. The Rams and Chiefs have set the innovative offensive pace in the NFL in 2018 and haven't looked back. With the Coliseum's scoreboard operator in for busy weeknight, it's Week 11 and the game that's been circled since training camp is just a few days away.
"I think we always want to embrace the opportunity to be able to play in those types of games, it's a blessing to even be a part of games like that," head coach Sean McVay said from Colorado Springs, Colo. this week. "You don't want to make it bigger than it is, but I certainly wouldn't ever have our players shy away from enjoying the moment."
Enjoying the moment on one of football's finest weekly stages should take the front seat for the Rams and L.A. fans alike, who have experienced a trying two weeks since the Thousand Oaks tragedy, recent Southern California fires, and an international change of plans.
Slowing Kansas City's second-year quarterback Patrick Mahomes could make Monday night that much sweeter in the City of Angels — the hard part is that Mahomes hasn't slowed down all season.
"I don't know who to compare him to, but obviously he's an excellent player and is getting better and better — that's the scary thing," defensive coordinator Wade Phillips said on Friday.
"He's made some plays that you just sit back and you can't help but just say, 'Wow, what a great play,'" McVay said. "They've got that consistently shows up on their tape with, really, their offense as a whole."
Mahomes has been wildly consistent in 2018. The second-year quarterback out of Texas Tech is the first player in NFL history to throw for 3,000 yards in his first 10 games. Mahomes posted eight-consecutive games with at least 300 yards passing between Week 2 and Week 9, and set an NFL and franchise record with 31 touchdowns through the season's first 10 games.
Mahomes does it with a cast of offensive weapons that nearly mirrors quarterback Jared Goff's arsenal.
KC's newest franchise quarterback sifts through downfield options led by the speedy wideout Tyreek Hill. Hill is top on the Chiefs with nine touchdowns in 2018 and is joined by one of the league's best tight ends in Travis Kelce and former Rams' receiver Sammy Watkins — who combine on the other end of nine more of Mahomes 31 touchdown passes this season.
Then there's 2017's leading rusher, running back Kareem Hunt. Hunt averages 75.4 yards rushing per game, has seven touchdowns in 2018, and will likely feel the effects of Phillips' defense after it allowed 273 yards rushing against the Seahawks in Week 10's win.
"We played a good running team, we didn't play them well enough," Phillips said, reviewing last week's performance. "We beat [the Seahawks] twice, but we didn't play them well enough in the running game. But, we also won both those games."
Phillips is of course referring to the Rams' defense finding a way to win in Weeks 5 and 10 against Seattle despite lackluster performances in stopping the run. The Rams won those games much like they have all season — coming up with key defensive stands when it matters most.
While Phillips focused on the end result, defensive tackle Ndamukong Suh knows plain and simply what his guys have to do to improve against Hunt and the Chiefs.
"I think it comes down to tackling, being in the right place, doing your particular job," defensive tackle Ndamukong Suh said. "Tackling is going to be the most important thing."
While stopping the run could be relief for Rams fans awaiting a consistent defensive effort, many eyes will be on All-Pro cornerback Marcus Peters matching up with many of his former teammates.
"Dynamic, right?" Peters rhetorically questioned reporters this week. "I mean, but they've got [head coach] Andy [Reid] and just with all the tools they've got, we've got a tough opponent coming in. We're just going to play our ball, man."
"We've got to be sound," McVay said. "We've got to make sure that we keep our gap integrity in the run game, we're sound with our coverage matches. It's going to be a great challenge, but I think our guys will be excited about the opportunity to compete against one of the best offenses in the league, for sure."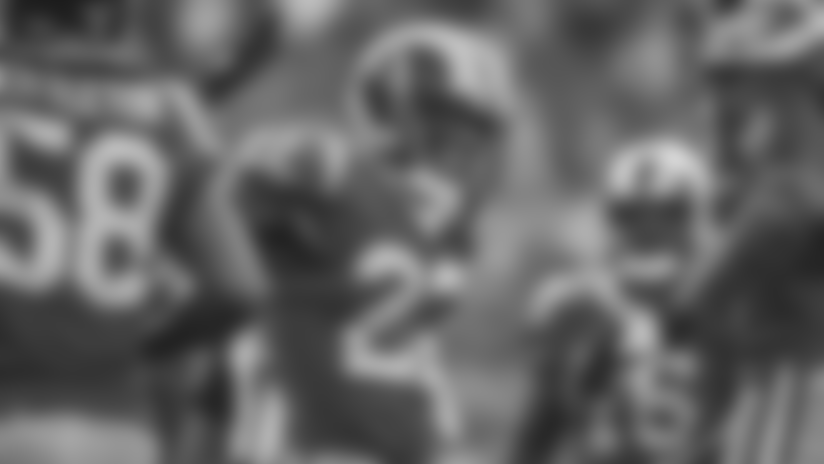 Speaking of one of the best offenses in the league, McVay will lead his own against an improving Chiefs defense that is slowly becoming healthy.
Kansas City allows 410 yards per contest and has had a particularly difficult time against the pass in 2018. The Chiefs have allowed at least 500 yards of offense in three different games this season, but have improved since allowing 500 yards and 43 points Week 5 against the Patriots — allowing just 17 points a game since the club's only loss.
Goff, who trails Mahomes by just 16 total passing yards this season, will look to tack up yards against pesky third-year corner Steven Nelson and his three interceptions, while avoiding the combined rushing attack of outside linebacker Dee Ford and defensive end Chris Jones, who have tallied 9.0 and 7.0 sacks this season, respectively.
"Yeah they are good up front, really good up front with two rush ends and they have the secondary to match that," Goff said on Thursday. "It's really good and can give us some issues, but we've got a plan that we are putting together starting today."
L.A.'s game plan just might include a few looks to put running back Todd Gurley in the end zone for the 14th-straight game as a rusher.
"He's a heck of a player isn't he? Oh god he is good," Reid marveled at Gurley this week. "We have to make sure that you better take care of all the gaps, you better stay disciplined, and you can expect just about anything because the great ones are going to present you with some things that you probably haven't had the chance to see before."
Not just Gurley, but the full Hollywood offense will give Reid and his Chiefs a look they haven't seen in 2018 — an offense keeping pace with their own.
The Chiefs and the Rams rank No. 1 and No. 2 in total yards this season. Kansas City's 35.3 points per game is second in the league, while the Rams' 33.5 ranks third. The Chiefs' 305.5 yards passing per game bests L.A.'s average by just 2.3 yards.
Los Angeles has done it with and without wide receiver Cooper Kupp so far in 2018, and unfortunately will be forced to go on without its receiving-touchdowns leader for the remainder of the season, after Kupp tore his left ACL against the Seahawks.
The Rams expect second-year receiver Josh Reynolds to step into a starting role without Kupp. Reynolds has big-game experience to lean on ahead of Monday's game, as he has started three games and scored three touchdowns as a professional. In Week 8, the former Texas A&M Aggie scored two touchdowns against the Green Bay Packers.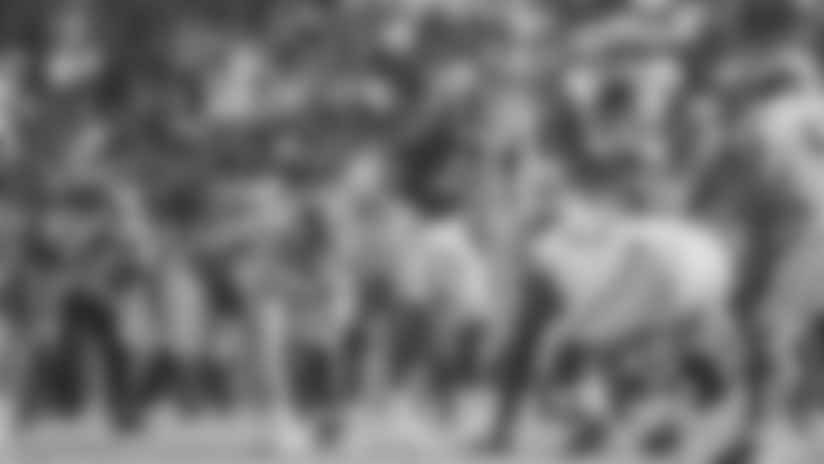 "Of course I'm integrated into the offense because of filling in and stuff, so it doesn't really change too much as far as how we are going to approach the offensive schemes and stuff like that," Reynolds said. "The ball is still going to go around to everybody and McVay is still going to draw up good schemes for the Chiefs."
Aside from Kupp, L.A.'s injury report featured its routinely resting veterans, but McVay said on Thursday that his team is "very healthy right now" — including receiver/return man Pharoh Cooper, who was designated to return from the injured reserve list this week, but is yet to be activated for Monday's game.
As for the Chiefs, veteran linebacker Justin Houston returned to action last week against the Cardinals and had a quarterback hit and an interception. Center Mitch Morse and safety Eric Berry remain on Kansas City's injury report entering Week 11. Morse has missed time dating back to a Week 6 concussion, while Berry's nagging heel injury has kept him out since August.
Watkins participated in Thursday's practice on a limited basis, but was held out on Friday. The widout missed last week's game to a foot injury.
The Rams announced this week that thousands of tickets to Monday's game would given out to first responders and those affected by recent tragedy in the Ventura & L.A. country fires and mass shooting that took place near the Rams Thousand Oaks practice facility.
Goff, whose father is firefighter, said that he looks forward to meeting first responders in attendance.
"Yeah hope to see those guys on Monday night and hope to say 'Hi' to a bunch of them and hope to let them know how grateful we are," the Northern California native told reporters this week.