The Rams (6-5) travel to Arizona this weekend to take on the Cardinals (3-7-1) at 1:05 p.m. PT Sunday at State Farm Stadium in the first of two meetings between both clubs in the month of December.
Los Angeles is looking to move to 7-1 overall in NFC West road games under head coach Sean McVay, while both teams are seeking their first divisional win of the season.
To get you ready for the contest, theRams.com compiled a quick preview featuring who to watch, what to watch for on offense and defense for both the Rams and the Cardinals and three keys to victory for L.A.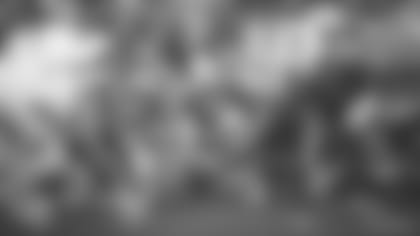 Rams LB Cory Littleton: One of the NFL's best inside linebackers when it comes to tackling and coverage this season, he figures to play an important role in trying to limit Cardinals QB Kyler Murray with how Murray uses his legs to create plays as a runner and a passer.
Rams S Taylor Rapp: Similar to Littleton, Rapp's short area quickness and tackling ability will be a critical component to keeping Murray and the big plays by the Cardinals' passing attack to a minimum.
Cardinals QB Kyler Murray: He's a big part of the Cardinals offense and presents challenges for the Rams' secondary and front seven.
Cardinals MLB Jordan Hicks: Arizona signing the former Philadelphia Eagle this offseason came with some risk, as he tore his achilles in 2017 and miss four games with a calf injury in 2018. So far, though, it's paid off – he's played in all 11 of the Cardinals' games and currently leads the team in interceptions (3) and total tackles (110).
Rams QB Jared Goff: The Cardinals' defense allows the most passing yards per game, which means Sunday could be a good opportunity for him to find a rhythm.
Primarily the current starting offensive line combination and their progress. With starting right tackle Rob Havenstein (knee) missing his third straight game, rookie Bobby Evans will get another opportunity to show what he can do.
On offense for the Cardinals
It was mentioned in this week's early preview, but how Arizona chooses to deploy its three running backs with Kenyan Drake, David Johnson and Chase Edmonds all available for the first time since it traded for Drake.
Cardinals head coach Kliff Kingsbury said it's his job to figure out a way to use all three on Sunday, but it is unclear what that will look like since this the first game the trio will play together.
Whether CB Jalen Ramsey shadows WR Larry Fitzgerald the entire game or travels with different receivers.
Cardinals wide receiver Christian Kirk shares the team lead in touchdowns (3) with Fitzgerald, and he's not too far behind in other categories. Fitzgerald has a team-high 55 receptions for 593 yards, while Kirk is second with 46 for 508.
In a broader sense, the general approach from L.A.'s defense with Murray throwing his 14 touchdowns to eight different receivers.
On defense for the Cardinals
Similar to the Rams, who they choose to assign CB Patrick Peterson to.
According to Pro Football Focus, Peterson has lined up out wide on 293 of his 376 snaps this season, compared to 36 in the slot.
Contain Murray: Like Jackson, he's going to make plays, but it will be critical to prevent the explosive ones, especially in the passing game.
Stop the run: Tying into one of the things to watch for the Cardinals' offense, Arizona has four legitimate rushing threats between Murray, Drake, Johnson and Edmonds that L.A. has to prepare for.
Take some shots in the passing game: For as much talent as Arizona's secondary has, they still allow a league-high 297.5 passing yards per game this season.