The Rams (6-4) and the Ravens (8-2) will square off at 5:15 pacific time on Monday, with Los Angeles looking to move to 3-0 on Monday Night Football under head coach Sean McVay.
The two teams last met in the regular season on November 22, 2015 in Baltimore. Overall, it will be just the seventh regular season meeting between them.
To get you ready for the contest, theRams.com compiled a quick preview featuring who to watch, what to watch for on offense and defense for both the Rams and the Ravens and three keys to victory for L.A.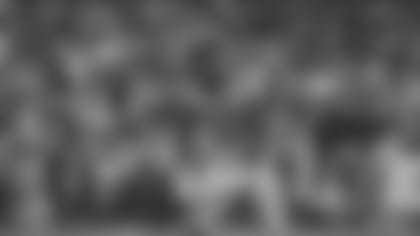 Rams S Eric Weddle: He won't be sharing insight on the Ravens out of respect to his former teammates, but even with keeping those details to himself, Weddle will likely still have an idea internally on how he should defend some of Baltimore's playmakers.
Rams DT Aaron Donald: Disrupting the Ravens' league-best rushing attack starts with him.
Ravens QB Lamar Jackson: This one shouldn't come as a surprise. Rams CB Jalen Ramsey called Jackson the "front-runner for MVP."
Ravens CB Marcus Peters: He has two interceptions in four games with Baltimore, and both have been returned for touchdowns.
Rams WR Brandin Cooks: The offense should benefit from his return.
RB Todd Gurley's workload.
He had a season-high 25 carries for 97 yards and one touchdown against the Bears defense, which, similar to the Ravens defense, entered last Sunday's game with a top 10 run defense. It's a small sample size, but it showed the Rams were able to lean on him against one of the league's best run-stopping teams.
On offense for the Ravens
Jackson and RB Mark Ingram rightly deserve the bulk of the attention, given that they're both big reasons why the Ravens have the No. 1 rushing offense in the NFL. However, that doesn't mean Ravens receivers should be ignored.
Baltimore is generating big plays in the passing game, too, and often times rookie WR Marquise Brown and second-year TE Mark Andrews are on the receiving end of those. Andrews is the Ravens' leading receiver with 598 yards, averaging 12.5 yards per catch, followed by Brown with 477. Brown is averaging a team-high 15.9 yards per catch.
The number of risks taken, or if they opt for a more cautious approach instead.
Blitz and the load the box often in an attempt to prevent Jackson from beating you with his legs – or Ingram's effectiveness in the run game – and L.A.'s defense is still vulnerable to an explosive play through the air via Jackson's arm. Sit back and try to prevent the deep ball, and Baltimore rides its run game.
There's a balance somewhere in between the two methods, and that will be something to keep an eye on.
On defense for the Ravens
Besides Peters, third-year CB Marlon Humphrey is another member of the Ravens' secondary to pay attention to. He's got the 24th-best coverage grade out of 190 corners evaluated by Pro Football Focus this season.
LB Matthew Judon has led the charge for Baltimore's pass rush with a team-high six sacks and figures to be a key assignment for the Rams' offensive line as a result.
Contain Jackson: He's going to make plays, but it will be critical to prevent the explosive ones.
Control the time of possession: The best way to contain Jackson is by keeping the ball out of his hands and making him a spectator as long as possible. This also places extra importance on establishing the run game.
Take some shots in the passing game: Similar to the Bears defense, if there's one area where the Rams can afford to take some risks, it's through the air. Big plays by Gurley and wide receivers Cooper Kupp and Josh Reynolds via QB Jared Goff helped set up scoring opportunities for the Rams offense against the Bears last week.