The Rams will return to the NFC West on Sunday to continue their undefeated march through the season's first half against the San Francisco 49ers. Head coach Sean McVay and his 6-0 Rams will enter Levi's Stadium as the NFL's only remaining unbeaten team, and the clear leaders of the division.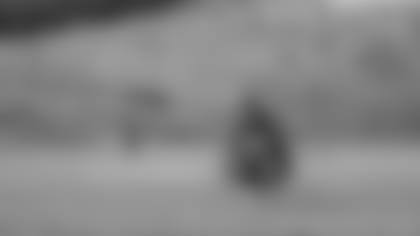 Last season, the Rams and 49ers split their season series, with each team winning on the road. In their last meeting, nearly all of McVay's starters watched from the sideline, protected from injury ahead of the club's first playoff appearance since 2004.
Quarterback Jimmy Garoppolo lifted the 49ers over the Rams in Week 17, throwing for nearly 300 yards and two touchdowns.
The 49ers offense has a completely different look in 2018, largely due to injuries. Head coach Kyle Shanahan lost his starting running back Jerick McKinnon to an ACL tear in practice, just a week before the season opened. And then the team lost starting quarterback Jimmy Garoppolo in the final plays of Week 3's game in Kansas City.
Shanahan said that his team has done its best responding to unfortunate injuries, especially at the quarterback position. 
"[A]ll that stuff takes a toll on you, but after a couple of days you don't have much time to think about it, you got a game coming up and you have to move on. And it's always 'next man up,' but what's been good about it is our next man up was [quarterback] C.J. [Beathard] and he's earned a lot of respect in our building."
Beathard, a second-year quarterback out of Iowa, has stepped into the starting quarterback job in Garoppolo's absence and has shown flashes, throwing for 892 yards and six touchdowns in three starts.
While the Niners have been best running the ball in 2018, Beathard's go-to targets through the air have been tight end George Kittle, and when healthy, wide receiver Marquise Goodwin. Goodwin caught two touchdown passes on Monday night in a 33-30 loss to the Packers at Lambeau Field.
San Francisco's run game is ranked third in the league, behind split looks between running backs Matt Breida and Alfred Morris. Each back is averaging 10 rushing attempts per game in 2018, and the pair combine for three rushing touchdowns. Breida averages an impressive 6.8 yards per carry.
The 49ers pose the fourth top-10 rushing team on the Rams' schedule so far this season, so stopping the run will once again be the focus for defensive coordinator Wade Phillips.
On Thursday, Wade Phillips spoke about his unit successfully slowing the Broncos' ground game last week, successfully holding their rookie running back duo to just 60 yards and 3.5 yards per carry. Denver came into Week 6 averaging 5.6 yards per rush.
"We had a challenge," Phillips said. "We didn't play well the week before. I said last week, every game is its own entity. We played a team that could really run the ball well or we felt like could run the ball well, and we stopped the running game. And we didn't give them many points either and that's the big thing."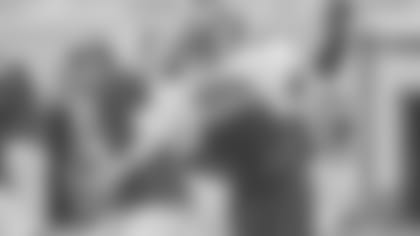 If last week's success stopping the run is encouraging to the Rams heading into San Francisco, what might be even more encouraging to the defense is that the 49ers offer the league's worst turnover differential at -11. The Niners have turned it over 14 times this season, and forced just three takeaways.
The last time the Rams were in San Francisco, the defense forced two turnovers. Cornerback Nickell Robey-Coleman had an interception on the game's first play, and later added a fumble recovery in the win.
"It was a short week, so they couldn't make many adjustment — so I hung my hat on that." Robey-Coleman said reflecting on his last game in San Francisco. "I went out there and did what I was coached — let my instincts take over and went out there and had fun for the most part."
The sixth-year corner said his pick last season is something that he will hold on to entering Sunday's game — a game that he called "personal" after splitting the divisional series in 2017.
As for this season, L.A.'s defense sits in the middle of the pack, with eight total takeaways through six games.
If Phillips' defense is able to keep the ball in the possession of quarterback Jared Goff and running back Todd Gurley, the 49ers defense will have its hands full with two of the league's best.
Gurley is coming off his career day in the cold of Denver, where he rushed for 208 yards on 28 carries with two touchdowns. As for Goff, the third-year signal caller is having the strongest season of his career thus far, throwing for 1,928 yards and 12 touchdowns with a 69 percent completion rate so far in 2018.
Shanahan told reporters on Wednesday that Goff appears improved in his second season with McVay.
"He's extremely accurate. He's extremely poised," Shanahan said. "He's very balanced in the pocket — nothing seems to really get him rattled. When people are open or even when they're not, he puts the ball where he needs to. He's playing as good as anyone this year from what I've seen."
Goff will operate behind his veteran heavy, effective offensive line as it attempts to ward off the pass rush of defensive end DeForest Buckner, who has 4.5 sacks this season. Goff's options through the air against veteran corner Richard Sherman and the 49ers secondary are a bit different in Week 7 with the absence of slot receiver Cooper Kupp, who sprained his knee against the Broncos.
"He's such a great player, so obviously it's going to change a little bit of the stuff we can do and some of the stuff we like to do with him and change some of that," Goff said. "But, we're excited to see [wide receiver] Josh [Reynolds] step up and move some things around and be in a good place and feel good with all the other guys."
Both Reynolds and undrafted rookie receiver KhaDarel Hodge have seen an uptick in playing time lately due to injuries suffered by Kupp and wide receiver Brandin Cooks. The Rams also added some depth to its roster this week, signing on slot receiver Nick Williams, who briefly spent time with McVay in Washington, and more recently with former Rams offensive coordinator Matt LaFleur in Tennessee.
The only other noteworthy personnel update for the Rams heading into Week 7, is the availability of All-Pro kicker Greg Zuerlein. Zuerlein has been cleared as good to go, and McVay is looking forward to having Zuerlein's range back in his offensive arsenal.
"We certainly know that he's got some range and the ability to, once you get into really anywhere inside that 50 [-yard line], you feel like you're in scoring position with him," McVay said.
With the banged-up 49ers toward the bottom of the NFC West standings at 1-5, Sunday's matchup against the perfect Rams might appear imbalanced on paper. But as the Rams complete their first pass through divisional opponents in 2018, wide receiver Brandin Cooks said injuries and close losses are not reasons to look past L.A.'s up-state rivals.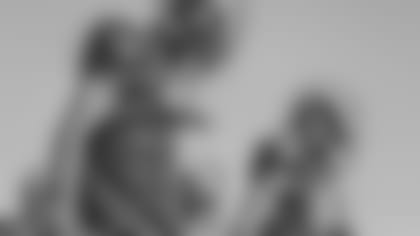 "You got guys that are losing close games, so when you see a team like that, they could easily be 5-1 or whatever the case may be, so we got to focus on doing what we got to do and stay focused on the task at hand," Cooks said.
With a win on Sunday, the Rams will improve to 7-0 to start the season, which would be the club's best start since the 1985.
"At the end of the day, we don't fear pressure — we attack it," Cooks said of his team's undefeated start. "We know that we are being gunned-for, but need to focus on what we do best. Coming in and having that quiet in mind, I think we'll be just fine."