Using ball-control offense and a downright dominant defensive performance, the Rams defeated the Cardinals 34-0 on Sunday, moving to 2-0 for the first time since 2001. 
Arizona managed only five total first downs, with just three coming against the first-team defense before Los Angeles began to play its reserves. The Cardinals finished with just 137 total yards, as the Rams recorded a shutout over their divisional foe for the second year in a row.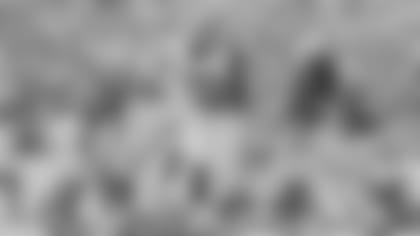 It was about as commanding a defensive performance as possible for the Rams, with head coach Sean McVay noting it was as good a performance as he's been around. 
"I can't remember a time I've seen a defense play that complete from whistle to whistle," he said. "From first quarter to the fourth quarter, they did an excellent job." 
That the Rams were able to do so on this day was significant, considering who they were missing. All-Pro returner Pharoh Cooper was placed on injured reserve earlier in this week with a significant ankle injury. And just before kickoff, the Rams learned they would also be without All-Pro kicker Greg Zuerlein, who had suffered a groin injury. 
"That changed our approach right away," McVay said. "That's where you say, 'OK, you're going to be a little bit more inclined to go for it on some fourth-down situations.' You guys saw a couple two-point conversions that we ended up having today. So, that definitely affected the decision making." 
L.A. would end up attempting three two-point conversions and hitting all three, with punter . The Rams also finished 1-of-3 on fourth down. 
Continuing the special teams prowess, returner JoJo Natson — re-signed this week to replace the injured Pharoh Cooper — excelled by averaging 22.2 yards per punt return, consistently setting up the offense with favorable field position. Natson had a 60-yard return in the second quarter, which set up a L.A. touchdown. 
"One of the things you can't help but notice [is] the explosiveness," McVay said of Natson. "He did a great job fielding it, but he's fearless. You talk about the game being too big for guys — it was not too big for him today."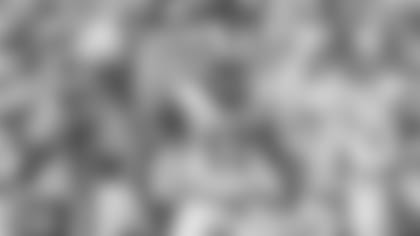 With Arizona clearly keyed in to slowing down Gurley — who finished with 19 carries for 42 yards with three rushing touchdowns — quarterback Jared Goff answered the bell. The third-year quarterback finished 24-of-32 with 354 yards passing with a touchdown and an interception. And on this day, 159 of those yards came courtesy of wideout Brandin Cooks, who caught seven passes on nine targets. 
"We've been connecting on a lot of the stuff during practice," Goff said of Cooks. "Today, you kind of felt that rhythm start to happen. Some of those deep things, some of the other stuff across the field where he's able to make those plays with his speed, and just how good with his hands — he did a great job today." 
"I'm extremely blessed, first of all, to play this game, have such an amazing team and teammates," Cooks said. "There's no doubt about it — I couldn't do it without them."
The two teams traded punts early on in the contest before Los Angeles took control with some strong passes and receptions from Goff to his wide receivers. The signal-caller connected with wideout Robert Woods for a 19-yard gain, then hit Cooks for consecutive gains of 20 and nine yards. 
That's when Gurley — who was held to six carries for -1 yards in the first quarter — broke loose, taking a handoff 11 yards to the right for a touchdown. With Zuerlein out, Gurley took another carry up the middle for a successful two-point conversion to give L.A. an 8-0 lead. 
After the defense forced a three-and-out, Natson started to make his mark with a 17-yard punt return to give the offense the ball at the L.A. 46. Los Angeles took advantage of the good field position, driving deep into Arizona territory. Though L.A. had 1st-and-goal from the 10, the home team couldn't punch it in the box. 
Instead, Hekker attempted his first career field goal from 20-yards out. With wide receiver Cooper Kupp holding Jake McQuaide's snap, Hekker nailed the attempt to give the Rams an 11-0 lead. 
Hekker's last field goal in a game? 
"That was in Bothell high school — 2007 sometime," Hekker said postgame. "I felt comfortable. I was calm. I have a great group of guys around me. I know Jake's going to put the snap on the money, Cooper's going to put it down there, and it's just up to me to just be an athlete and just kick it through." 
With the defense continuing to force the Cardinals into bad spots — they had just two first downs in the entire first half — Natson once again made his presence felt. The young returner, took a deep punt up the left sideline for a 60-yard return, setting Los Angeles up at the opponent's 32-yard line with 4:18 left in the first half. 
The Rams salted away the rest of that clock with an eight-play drive that finished with Gurley running it up the gut for a one-yard touchdown on 4th-and-goal. Gurley ran it in once more for a two-point conversion, putting the home team up 19-0 at halftime. 
Los Angeles' defense had surrendered just two first downs in the first half, and kept up the dominant performance by letting up just one in the third quarter. Through three periods, Arizona had only 91 total yards — allowing Los Angeles to largely control the game. 
Goff opened the first possession of the second half with a 57-yard bomb to Cooks, putting the Rams all the way at the Cardinals' 22. But on 3rd-and-9, Goff tried to make something happen after evading a sack in the backfield and rolling to his right. The quarterback was looking to get a pass in to Cooks, but cornerback Patrick Peterson did what he does best, and picked off the pass for Los Angeles' first turnover of 2018. 
The defense, however, didn't let Arizona get anything meaningful going offensively and forced a punt.
On the ensuing drive, Gurley scored his third touchdown of the game, after another Natson punt return gave the offense favorable field position at its own 44. Goff started the possession with a pass over the middle to Cooks for 14 yards, then evaded the rush in the backfield to fire a strike to Woods down the left sideline. Gurley would punch it in on 3rd-and-1 from the Arizona two-yard line. Once again going for two, Goff connected with running back Malcolm Brown in the middle of the end zone to keep the club perfect on those attempts. 
Up 27-0 and in command of the game, Los Angeles inserted second-team defenders at linebacker and in the secondary. Cornerback Sam Shields showed there would be no drop off, picking off Bradford on 2nd-and-8 to make his first pick since December of 2015. 
L.A. capitalized on its extra opportunity, with Goff tossing a touchdown pass on the left side to tight end Tyler Higbee. 
With the victory, the Rams have now shut out the Cardinals in the last two games where they've been considered the "home" team. Last year's game was in London, but Los Angeles won that matchup 33-0 as well. 
The Rams will be back in action at the Coliseum next week, taking on the 1-1 Los Angeles Chargers.