In college, new Rams offensive coordinator Kevin O'Connell logged "plays that confused him, coverages that tested him and his handling of situations" for each game, filling multiple notebooks, according to a December 2011 article from the New York Times.
He carried those intensive film study habits with him to the pros as a player and to each of his first three coaching stops, creating a large collection of spiral-bound observations that he still comes across each time he's moved.
They're helpful references, but he has to be selective.
"My wife wants me to get rid of it all, but each and every time I've had to move I try and figure out the important stuff," O'Connell told theRams.com "She does not let me keep it all though, because obviously, you add three kids to the mix, and there's only so much room to store things. But I still do have a lot of that information."
What the O'Connell family home lacks in storage, the Rams coaching staff gains in the form of football knowledge and a keen attention to detail that will benefit the staff.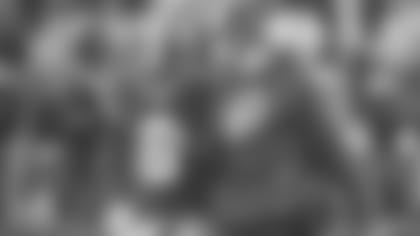 The roots of that mindset came during O'Connell's second-to-last NFL season, when he took on the responsibilities of an unofficial quality control coach as the New York Jets' No. 3 quarterback. It was not the part the former third-round pick expected to be playing in his fourth year as a pro, but it served as early preparation for a future NFL coaching career.
"Towards the end of my playing career, I really had to kind of embrace that supportive third quarterback role," O'Connell told theRams.com, recalling the story more than eight years later. "I did a lot of things to help the defense, I did some quality control work in that setting, just because I loved it."
Within that new role, O'Connell took meticulous notes and keeping everything as organized as he possibly could. The greater the detail, the easier it was for him to recall tendencies of opposing defenses.
He took those habits with him when he broke into the NFL as the quarterbacks coach for the Browns in 2015, became an offensive assistant on then-49ers head coach Chip Kelly's staff in 2016 and joined the Washington Redskins as quarterbacks coach in 2017.
"Every time you go through these moves, you end up, you know, adding three years of things in Washington," O'Connell said. "But obviously when I went to Washington, I had stuff from San Francisco and Cleveland and New York and New England and all the places I was. So I do (still have those notebooks), I come across that stuff."
O'Connell has kept most of that information he's accumulated over the years, and for good reason: It has served as a helpful historical guide in key situations.
In 2018, the Redskins went through four different starting quarterbacks due to injuries to their top two at the position. The third one they brought in was Mark Sanchez, the starting quarterback for the Jets in 2010 and 2011. Reuniting with a former teammate, O'Connell's recall proved critical.
"How I coached Mark was a lot of, 'hey, we used to call this blank in New York, it's this here,'" O'Connell said.
In 2019, the Redskins would experience more late-season change at quarterback, naming rookie Dwayne Haskins their starter in Week 11. Similar to the Sanchez situation, O'Connell drew upon his playing experience – specifically how he was trained as a rookie in New England – to help shorten the learning curve.
"You have to cut corners any way you can to help that player understand in the fastest way possible what to do," O'Connell said.
A self-described "old-school guy," O'Connell continues to write things down in notebooks and binders. However, he said he has "transitioned with the times" by making digital copies so that he doesn't have to search through a bunch of boxes.
"I think my wife would appreciate if I transition a lot of that into digital storage instead of physical storage in my office or in our home," O'Connell said.
Old habits die hard, though, so it seems O'Connell won't be getting rid of this one anytime soon.