While there was suspense in public, behind the scenes the Rams apparently knew for a good amount of time that left tackle Andrew Whitworth would be returning for his 14th professional season in 2019.
Last week, Whitworth confirmed that news with a tweet, telling therams.com he did it in order to alleviate the Rams' brass of having to answer questions about him that he could answer himself.
But with that news as official as possible, both general manager Les Snead and head coach Sean McVay explained over the weekend why it's so significant to have the big left tackle back in the fold.
"It's big. I mean, he's been so instrumental in what we've bene able to do for the last two years. What he's going to represent moving forward, you know you've got a stable piece on that left side of the line," McVay said. "But more importantly, you've got one of your core leaders that affects and influences everything we do in the building. And it's not exclusive to players — it's for me as well as a coach. And you're just thankful to have him back leading and doing those things the right way. But to have him around, you really can't put into words how important that'll be."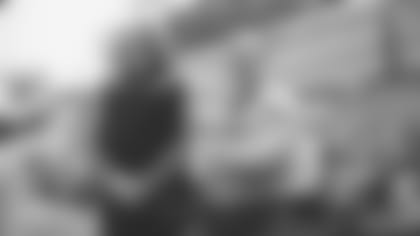 "I don't know if I call it a blessing in disguise, because I think you see 'Whit' play this year and you got a gut feeling he was coming back," Snead told therams.com. "He loves football, the way that we manage his schedule — we don't beat him up, we allow that older body to stay fresh.
"You know what? We got a starting left tackle. Next year, that's a big bonus — you got one of our pillars in the locker room back — that's an even bigger bonus," Snead continued. "He'll still be able to help develop some of our young offensive linemen that we drafted last year and we'll draft this year to take over the reins when he does decide to move on."
If you spend any time around the Rams locker room, it's clear just how important Whitworth is in terms of his leadership. Last year's top draft picks in offensive linemen Joseph Noteboom and Brian Allen both credited Whitworth for helping them assimilate to the league. And with left guard Rodger Saffold's status as a pending unrestricted free agent, having Whitworth back means that the Rams will have at least one of their key pillars on the left side of the line back in 2019.
The Rams' offensive line has been as consistent as any unit in the league over the past two years, with each member of the regular lineup starting each game in the regular season and postseason. The only change between 2017 and 2018 was Austin Blythe replacing Jamon Brown at right guard — a change necessitated by Brown's two-game suspension to begin the 2018 season.
Saffold's potential departure would create a significant void on the offensive line. But with Whitworth entrenched at left tackle, the Rams would likely be able to ease in the transition with any new starter up front.