Special teams coordinators are a tight-knit group in the NFL coaching fraternity, so much so that the Rams' newest one, John Bonamego, happens from the same coaching tree as his predecessor, John Fassel.
It's a good sign for a unit that has been together for a long time. And if it's not enough of a hint about emphasizing continuity, it's one of Bonamego's main objectives as he gets settled.
"Those guys are like any other position. They want to be coached, they want to get better," Bonamego said. "It's really working with them and establishing a rapport, a routine, learning what they can do and what they do well. Like any other player, try to keep them out of the situations that are asking them to do things that they don't do well. The No. 1 takeaway there is communication."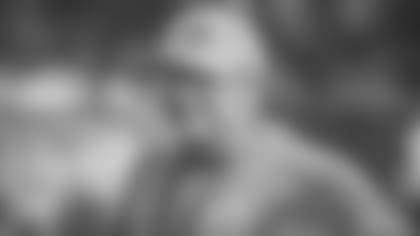 Bonamego wants to instill a fundamentally sound, accountable culture within the Rams special teams. Successfully doing so starts with learning the regular habits of players like punter Johnny Hekker, kicker Greg Zuerlein and long snapper Jake McQuaide.
The trio have been together since 2012 and provided stability to the Rams' special teams, and Bonamego's familiarity with them goes back well before his arrival in Los Angeles.
"A lot of those guys I've looked at coming out of the draft," Bonamego said. "I had a pretty good relationship with Johnny before he signed here. I was in Jacksonville at the time, we took a kid by the name Bryan Anger instead, but I remember those conversations."
With that foundation, he explained how he'll get to know his new players better.
He wants to be straightforward by saying this is what their workload will look like on a given day, but he also wants their feedback.
"Now within that, what do you guys think? Is this dramatically different from what you've done before?" Bonamego said, explaining that process.
A 17-year NFL coaching veteran, Bonamego emphasizes communication because it's what his mentor, the late Frank Gansz, passed down to him. (Fassel worked with Gansz' son, Frank Jr., in Baltimore in 2006 and 2007.)
"A commitment to the fundamentals, and how he taught and communicated it," Bonamego said, when how the elder Gansz impacted his coaching career. "How he handled players in meetings, how he practiced, his communication, his attention to detail, all of those things. Just a really, really special, unique individual."
The elder Gansz won a Super Bowl with the Rams as then-head coach Dick Vermeil's special teams coordinator. Similarly, Bonamego will be looking to get the current team back to the postseason, and that starts with building relationships with his new specialists and understanding how they operate.
"Those guys are like baseball pitchers, you always have to be cognizant of that," Bonamego said. "A baseball guy throws, he's off a couple days because you have to give him time to recover. Punting a football, kicking off a football, that's a very violent, explosive act. You just gotta always know where they're at physically, and how they're feeling, because it's a long season and you want them there. You want them available and you want feeling good on Sunday when it counts."