The Los Angeles Rams travel to Houston to face the Texans on Thursday to finish off the 2019 preseason, with kickoff scheduled for 5 p.m. PT on KCBS.
For more on L.A.'s final 2019 preseason opponent, theRams.com caught up with Texans team insider Drew Dougherty for Houston's perspective on this matchup and explains how it impacts the Rams.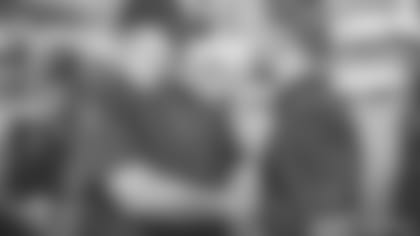 TheRams.com: Generally speaking, how are the Texans approaching this preseason when it comes to starters' involvement?
Drew Dougherty: "STAY. HEALTHY. Like the rest of the NFL, you won't see any starters or major contributors in this game, other than the specialists. Last Saturday in Arlington, the Texans lost Pro Bowl running back Lamar Miller to a knee injury on the second offensive play of the game. In addition to being an important part of the offense, Miller's a beloved teammate. He's done for the season, and the Texans want to avoid anything like that happening again."
TheRams.com: What are some notable position battles taking place, if any? Has training camp plus the first three preseason games provided any clarity on that competition?
DD: "Running back is one. With Miller out, Duke Johnson is now atop the depth chart. Behind him, veterans Taiwan Jones, Buddy Howell and Josh Ferguson have competed with undrafted rookies Damarea Crockett and Karan Higdon. All have flashed at times throughout the preseason, but Howell impressed the most when he carried 15 times for 84 yards and a score. Howell was one of the special teams tackles leaders last season, and didn't get a carry in 2018. That might change in 2019.
"It's a crowded room for the tight ends. Jordan Akins and Jordan Thomas were drafted a year ago, Kahale Warring was taken in the third round in April, and the team signed veteran Darren Fells this offseason. The Jordans are locks to make the roster and I'm not sure you'll see much of them against the Rams. Fells is labeled a "blocking tight end", and he's jokingly referred to himself as a "left, left tackle". While he is certainly the most capable blocker, he's also caught a combined 10 touchdowns the last four seasons. The Texans haven't had that sort of scoring production from a tight end since Owen Daniels was here. Warring's only practiced a few times this preseason because of a couple different injuries, but he turned heads during OTAs. On top of that quartet, veteran Jerrell Adams has been nasty when he catches the ball. He has a touchdown catch this preseason, turned in a nasty stiff arm after a catch against the Lions, and has been an incredibly impressive performer."
TheRams.com: Along those same lines, who are some key Texans players to watch – offense, defense and/or special teams – on Thursday?
DD: "Special teams is easy: kicker Ka'imi Fairbairn led the NFL in scoring last year. Hopefully that changes in 2019, as the Texans want to score more touchdowns than field goals.
"On offense, some of the younger wide receivers like Vyncint Smith, USC-ex Steven Mitchell and undrafted rookie Tyron Johnson. They all have speed and an electric ability to get open deep. Mitchell, though, has mainly lined up in the slot this preseason.
"Defensively, safety A.J. Moore is a fun one to keep an eye on. He led the Texans in special teams tackles, and this time 365 days ago, was fighting for a spot in New England. The Pats cut him, the Texans claimed him off waivers, and he was one of the lynchpins in a special teams revival for Houston. For the previous decade, the Texans had been near the bottom of the League in kickoff and punt coverage, and he was a big reason why they flipped the script and were a top 5 team in those categories last year. He's been around the ball quite a bit this preseason at safety, and making plays on defense the way he did last regular season on special teams."
TheRams.com: The Texans recently signed OT Christian DiLauro. How likely is it that he plays Thursday?
DD: "He'll likely get quite a bit of time in the second half. Improving pass protection on the whole has been one of the main thrusts for the Texans leading up to the regular season, so they're turning over every proverbial leaf to try and get better there."
TheRams.com: Finally, based on what you observed from the Texans' first three preseason games, what will you be watching for against the Rams?
DD: "In the same way Howell did against the Lions, and Adams has done for the last month, I'd like to see some of the young receivers and young players in the secondary have a standout game. This Texans roster has some stars at the top like Deshaun Watson, DeAndre Hopkins and J.J. Watt. Seeing what the back end of the roster looks like might be aided by some younger guys having big games on Thursday evening."
What it all means for the Rams
Several new faces and position battles on the offensive side of the ball will make for a busy day for Los Angeles' defense. The talent of the Texans' young running backs should also pose a test as they look to prove themselves worthy of a big role following Miller's injury. With young wide receivers looking to carve out roles for themselves as well, Rams defensive backs will have plenty to watch for. Overall, though, the Rams' front seven will probably be the most preoccupied Thursday.
The Rams practice in Thousand Oaks, Calif. before the team departs to face the Houston Texans in the final preseason game of 2019.