When Los Angeles selected offensive lineman Joseph Noteboom at No. 89 in the third round of the 2018 NFL Draft, the thought was that eventually Noteboom would take over at left tackle.
At this point, that's still likely to be the case. But after a year of backing up an offensive line that kept its same starting group from Week 1 to Super Bowl LIII, Noteboom is penciled in to ascend into a first-team role — at left guard.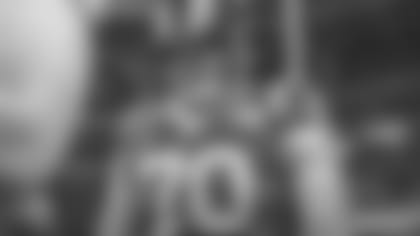 As run game coordinator/offensive line coach Aaron Kromer said in an interview with therams.com for Season 2 of Behind the Grind, Noteboom showed enough skill and versatility early on that L.A. was confident enough to have him be the backup for every position but center as a rookie.
"Noteboom played left tackle at TCU, was drafted as a tackle prospect, but what we prefer to do in our offense at this organization is move our offensive linemen around if they're not a starter because you dress seven guys on gameday. So you need somebody who can backup both tackles," Kromer said. "We felt last year, the best situation was no matter what position other than center, if we needed him, would be Joe. And so Joe got the opportunity to practice at four different spots the entire year. So he was ready to play left tackle, right tackle, right guard, left guard."
Noteboom did not have many opportunities to get in games, but when he did he excelled. He was in for a few snaps here and there for most of the season, but received the most playing time against the 49ers in Week 17 when left tackle Andrew Whitworth knocked knees with another player and ended up missing about two thirds of the game.
But on the drive where Noteboom entered in the second quarter, the Rams executed a wide receiver screen to Brandin Cooks on the left side for an 18-yard touchdown. Noteboom got off the line perfectly to execute his block on the cornerback to help free up Cooks for what was his second TD of the game.
That series — and, really, Noteboom's performance in that game as a whole — was emblematic of the way he seemed to always know what to do, despite being a particularly quiet presence in the OL room.
"There's a lot of conversation during the meetings in our meeting room amongst the players — player to player, coach to player, and so on. So making sure we all agree that this is the way it's going to happen. And with Joe not playing, he wasn't in that five-man conversation," Kromer said. "But at the same time, if Joe Noteboom called me right now, didn't tell me who it was, I might not recognize his voice. That's how little he talks. But any time that anyone asked him a question in those meetings, he knew the answer. He knew how to do it, what to do. And as a rookie to have that much attention to detail, that says a lot about Joe."
Noteboom told therams.com that he saw only advantages to sitting behind high-level veterans like Whitworth and left guard Rodger Saffold in his rookie season because he was able to learn so much.
"That's been one of the best things about being here so far, is just kind of having those veterans to just guide me along the way, having the redshirt year to watch those guys and see how they do things on and off the field," Noteboom said. "Getting to sit behind those guys, getting to watch for an extra year, letting me sit back and kind of observe how they do things, I kind of modeled my game after that and got a bunch of practice reps for Whitworth and Saffold."
So as the Rams get ready to begin their offseason program, Kromer feels Noteboom is prepared to take the next step to become a starter on Los Angeles' offensive line — largely because of the experience the young OL gained in 2018 to be prepared to play anywhere.
"That's what these guys want coming out of college — just put me on the field. I don't care what position, I'll go play," Kromer said. "And Joe showed that ability that we feel like he can go in at left guard and hold his own."
Noteboom was one of three offensive lineman featured in the latest episode of Behind the Grind, which you can watch in the embedded video below.