Considering all that transpired last season, it was definitely a welcome sight.
No. 18, helmet on his head, moving around on the field to catch passes from quarterback Jared Goff.
Wide receiver Cooper Kupp has been through a lot since tearing his ACL Week 10 against the Seahawks last year. But the wide receiver never got too down on himself, instead focusing on how he'd make a full recovery — even from the immediate aftermath of suffering the injury.
"There's never a point of feeling sorry for yourself — there's nothing good that comes from that. There is a time of the realization — there's definitely disappointment, but there's a time of realization that, 'This is what it's going to take to get back. This is where I'm at right now.' And then setting the game-plan and moving forward on that," Kupp said following Monday's first OTA practice of the spring. "And even just the night that it happens, being able to talk with my wife and the trainers, and just be like, 'Let's get a plan together right now.' And, 'What can I do to make sure this is accelerated as best as it possibly can?' And I'm all-in on making sure this is the best rehab that we can possibly do."
Now, Kupp says he's reached many of those initial goals, as the Rams begin Phase III of their 2019 offseason program. Today, Kupp is feeling good — he's clearly able to move around enough to participate in some elements of practice. He also could be seen standing behind the offensive plays at times. And for other periods, Los Angeles' training staff has him riding a stationary bike.
"I'm taking it day-by-day," Kupp said. "It's just about attacking this week, attacking the day as best as I possibly can. And I feel good about where I'm at."
But given Kupp's competitive nature, he's the kind of player who the Rams fully know they're likely going to have to hold back from doing too much too soon on the injured knee. Both head coach Sean McVay and quarterback Jared Goff acknowledged as much on Monday.
"He's a guy you've got to kind of always keep pulling back and telling him, 'No, no — that's enough. Stop running. Stop cutting. You're good.' I told him today he needs like a shock collar, because he'll just start running," Goff joked. "But he looks good — he looks really good."
"I know Cooper is itching to get involved. He's like a kid standing on the sidelines that just wants to be able to grab a ball and go play. So he's making great progress. I think he's one of those guys that's right on track with where we want him to be. We'll be able to kind of get creative and get him involved a little bit more as we progress through this offseason. And then, obviously, the goal is to make sure that he's ready to return to competition and performance against the Panthers."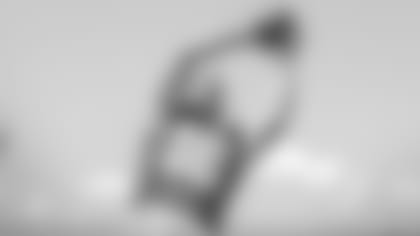 "I definitely live with the mantra — especially with something like this — that it's better for them to be yanking you back than to be pushing you to go. So I try to push that limit. And Reggie has done a great job of making sure that I'm not overstepping, going too far on things," Kupp said, referring to Rams head trainer Reggie Scott. "We want to make sure that we're in that place where the risk/reward is in the right place — that we're pushing as hard as we possibly can without putting the knee and myself in a bad position."
While McVay has that long-term goal in mind, Kupp is keeping his objectives limited to the short-term. The wideout said he doesn't even usually look beyond a week of his rehab plan, remaining focused on the task at hand and living with the small victories — since they all will add up in the coming months.
"I don't set my goals months ahead on something like this — it's almost daily, weekly goals," Kupp said. "When I get out of bed, what's today look like? How am I going to push myself? What are the goals I'm going to hit today that I'm making sure that tomorrow, the next day after that all line up with the bid picture here. So keeping my goals kind of near-sighted versus far-sighted has been huge for me."
That short-range thinking has put Kupp on track to be back on the field for Week 1. Until then, we'll see if Goff does, in fact, get that shock collar for the wideout just to make sure he stays that way.