The first-ever Rams Scouting Apprenticeship began in March of 2020. The Rams hand-selected ten people of color, including two women. This series will cover each of the ten apprentices. This week, meet Mechelle Geeter, former Director of On-Campus Recruiting for The University of Maryland Football Team.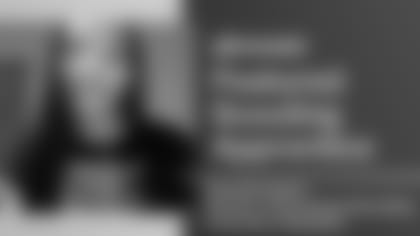 Mechelle Geeter wears a t-shirt that reads:
And now that I've had the chance to get to know her, I want to add, "Problem solve like Mechelle".
Problem solving is a skill we think highly of. The thing about being a problem solver, though, means you're going to have problems. But for Geeter, when she explains the ups and downs of being a black woman working her way into the NFL, you wouldn't doubt her ability to do so.
"It's just getting the door open. Once it's open, I got it." Geeter says.
It's not been easy for Geeter. Like many during the pandemic, she lost her job this year. "Covid kind of messed that up," she said. "My position was terminated. I was a little upset, but I'm just going to continue to move forward, which I'm doing." Geeter was the Director of On-Campus Recruiting for The University of Maryland Football Team, a position she was very proud of.
But even before losing her job, Geeter was able to find the positives of being at home during the pandemic. "I've been able to sit in on offensive meetings [and] defensive meetings and talk to some of the coaches about what does this player need? Or how does this player look? Or what are you looking for in this particular position?" It was a good thing, she said, because she really wants to learn: "I have a ton of questions and I'm not afraid to ask [them]." 
She's not afraid. Her mentor, Ray Farmer, Scouting Consultant for the Rams, agrees. "Her willingness to be vulnerable and ask questions [is] awesome." He added, "She is a problem solver." 
Now without full-time work, Geeter is "Trying to figure out different ways to continue to stay grounded and keep my foot in the industry." Outside of the Scouting Apprenticeship, in just the past few months, she's become a notary, helped her brother with his trucking company and worked as an assistant manager during the Atlanta, Georgia early elections. All while still doing the work for the apprenticeship.
While it seems like a lot to balance, Geeter says she needs to keep challenging herself. "People get stuck in their ways, and they don't seek change. I feel like people don't see other ways to get to where they want to get to. Because there are numerous ways to get to where you want to." 
Being a scouting apprentice is part of finding new ways to reach her goal. "It's always been a dream of mine to work in the NFL." Geeter explains. "This apprenticeship has been good for me to keep me in football, because this is where I want to be." 
Like the icons on that t-shirt she wore, Geeter realizes the journey isn't easy, but she has hope for change and is grateful for the apprenticeship. "I'm hoping that other teams can have something like this going on. Because this is phenomenal. It's a great experience, especially for minority people, especially for a black woman, because let's be honest, we really don't get these opportunities." 
But she is someone that deserves the chance. "I'm definitely further along than when I started. When it comes to scouting, it's so easy to nitpick guys. And I say, I think we need to elaborate on the positive. What can they actually do for the team… how can they really benefit this team?" she emphasized.
So as Geeter keeps on moving towards her goal to work in the NFL, she wants you to know "There is plenty of talent out here. These guys just need a shot to be able to show what they can do."
There may be a lot of t-shirts with Mechelle Geeter's name on them before you know it.
For more on Mechelle Geeter and the other apprentices in the Scouting Apprenticeship, clickhere.