Next week's Thursday Night Football matchup with the Patriots marks the Rams' My Cause My Cleats game, in which 31 players – as well as 10 coaches – will use their footwear to draw attention to charitable causes they are passionate about.
Ahead of the contest, TheRams.com took a closer look at causes championed by rookie running back Cam Akers, rookie offensive lineman Tremayne Anchrum Jr., and fourth-year outside linebacker Samson Ebukam, and what those causes mean to each player.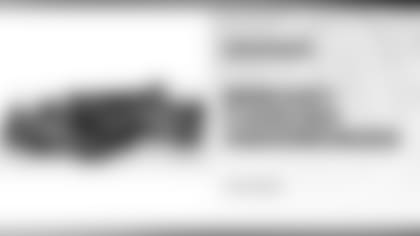 Cam Akers – Breast Cancer Awareness
Akers shares a deeply personal connection with this cause because of his mother Angela Neal's battle with breast cancer when he was a child, a story the Rams featured as part of their Crucial Catch campaign in October.
According to an August 2016 story by the Jackson (Miss.) Clarion-Ledger, Neal was diagnosed with Stage II breast cancer in 2009, when Akers was 10-years-old. She beat it two years later.
"Having that testament, living that testament every day, knowing that she survived such a hard time, a trying time, just motivated me throughout my life in pretty much everything I do," Akers told theRams.com in a phone interview.
Fittingly, his source of strength and inspiration was incorporated into the design of his Nike Vapor cleats, which features a hand-drawn portrait of his mom on the toe of his left cleat and the word "faith" below the portrait, with a Cedars-Sinai logo on the heel. A pink ribbon – widely used to represent breast cancer awareness – surrounding the words "Early Detection Saves Lives" on the right cleat, with "hope" on the quarter panel and "strong" on the heel.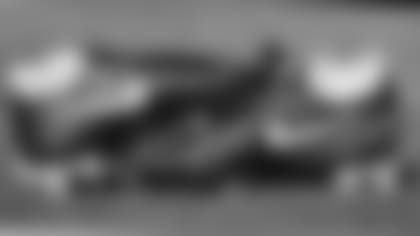 "It's got my mom on there, her face, her name," Akers said. "I just wanted everybody to know they were for her, they were dedicated to her."
Besides that symbolism, his cleats are also designed to raise awareness and reduce the stigma of breast cancer through education on symptoms and treatment, one of the goals he hopes to accomplish through the collaboration.
"Just trying to progress, not just bring awareness to the situations, and not just breast cancer," Akers said. "All the other guys have things on their cleats that are going on, and just to bring not only awareness, but some change. Maybe if we start doing it, people with our type of job titles and our positions, maybe some change will happen."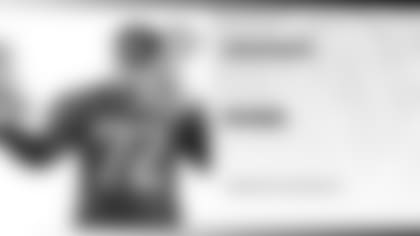 Tremayne Anchrum Jr. – RISE (Ross Initiative in Sports for Equality)
R.I.S.E.'s mission is to empower the sports community to eliminate racial discrimination, using partnerships and programs to create positive change.
That proactive approach to social justice resonated with Anchrum and made them an easy cause to generate awareness for.
"They're going after solutions, instead of just pointing out problems, right?" Anchrum said in a phone interview with theRams.com. "We can all point to problems, we can all point to things that are wrong with our society, but not too many people are actually taking active steps to change that, and I feel like RISE is doing that with the right approach. Obviously going after kids in the area who have been affected by systemic racism and different things like that, that may not have all the opportunity and resources. They're investing into the future. There is no hope for today or yesterday, but there is hope for tomorrow, and I believe that they're on the right track to making a chance."
Earlier this summer, Anchrum participated in a 14-minute interview with ESPN's Chris Fowler about his own experiences with racism, recalling a moment when he first arrived on Clemson's campus and was interacting with students when he wasn't wearing football gear, and those students having "choice words" for him. While the exchange initially made him angry, he realized they didn't know any better, and it taught him the importance of opening a dialogue. Similarly, one of the ways RISE empowers others is through critical conversations.
Anchrum's Nike Zoom cleats that he will be wearing next Thursday night feature RISE's logo across the velcro scraps with the word UNITY in all caps across the quarter panels. He said the simplistic design was an intentional choice.
"I wanted it to be, let's draw attention to the organizations that are making a difference. Let's keep the main thing, the main thing," Anchrum said. "Unity, RISE is on the straps, because Unity is what we're all about, right? We don't want to create any more division, we want to create unity, we want to create collaboration, we want people to invest in the future, to invest in each other."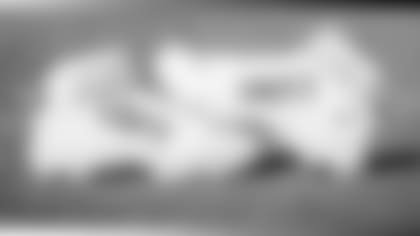 Besides generating awareness for RISE as an organization, what Anchrum hopes people take away from this collaboration is that it "takes an all-in approach" to dismantle systemic racism.
"You get what you put in, you get what you invest, and that is, you invest in the kids, you invest in the future, you invest in relationships between police and minorities, you invest into fixing the problems of systemic racism and different prejudices in this country," Anchrum said. "You get that done by awareness, you get that done by, 'okay, these are the problems, how can we fix it?' You get that done by holding people accountable."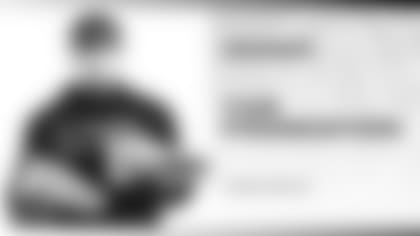 Samson Ebukam – T&S Foundation
Ebukam established the T&S Foundation this year to help provide basic humanitarian needs for the people of Nigeria, including basic community needs in his hometown of Onitsha which has dealt with pollution and waste problems in the past.
"Just looking back and seeing how far it's come and how far I've come, I know that there's still a lot of people struggling there like I was when I was growing up," Ebukam said in a phone interview with theRams.com. "So I was like, 'I need to do something to be able to give back.'"
Given he just recently started the foundation and the impact of the COVID-19 pandemic, he hasn't been able to be actively involved in that process, but using his and the My Cause My Cleats platform to generate awareness is a positive step. He hopes the virus is gone next year so that he can take a trip back and figure out ways to help the people of Onitsha.
"Hopefully COVID is not here by 2021 and it's knocked out so that I can take a trip back there and just take a walk around, talk to the community leaders and figure out what we need to help out the people to make their life a little easier," Ebukam said.
In the meantime, Ebukam is currently selling merchandise on his website to raise funds, "because once it's time, man, I'm gonna go back there and actually do it myself."
"I can't really just give money out to people to help out, because they're just going to take that money and run," Ebukam said. "So I know I've got to do this one myself. That's why it's even more special for me, because then I get to leave my own print back home."
Ebuakam's adidas cleats feature the Nigerian flag's green and white colors with a silhouette of Africa on the toe of the left cleat and the T&S Foundation stamped on the toe of the right cleat – strategic design choices to show where the money is going.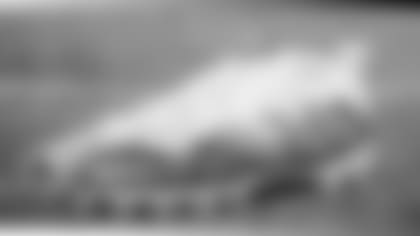 "Just so that people recognize I'm serious about supporting and trying to find a way to help my homeland, you know what I'm saying? That's really the main goal," Ebukam said. "Because a lot of people think we just do it because it's a time to wear some cleats that are really colorful and all that stuff. I'm just like, nah, this is really from the heart. I'm just trying to make sure that people know that."