With the offseason program complete and training camp on the horizon, it's time to look ahead. As part of the preparation for training camp, theRams.com will be spotlighting a handful of players new to the Rams' roster. Kicking off the series is linebacker Bobby Wagner.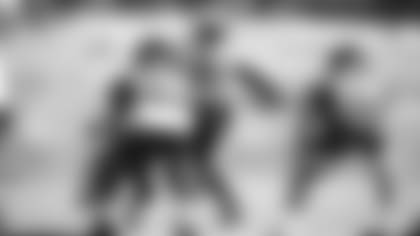 How He Got Here: Released by the Seahawks on March 12, Wagner was a free agent for the first time in his career after spending his first 10 years in the NFL in Seattle. Shortly thereafter, Rams defensive lineman Aaron Donald and defensive back Jalen Ramsey texted him to try to recruit him to Los Angeles. Whatever they said in their pitches, and based on how Wagner's free agent visit to the team's facility went, it all clearly worked – Wagner and the Rams agreed to terms on a five-year deal on March 31.
What's Next: Building chemistry with second-year linebacker Ernest Jones. As the Rams assessed whether it was worth pursuing Wagner, general manager Les Snead said they discussed as a staff whether they could find ways to play both him and Jones on the field at the same time. Ultimately, they came to the conclusion it was feasible, so after getting some jog-through reps in this spring during organized team activities, one of his most important tasks this spring will be getting used to playing alongside Jones for when Los Angeles deploys those packages.
Bet You Didn't Know: While Wagner is fully focused on the present, he's also got an eye toward the future and wants to own an NFL team someday. To that end, the Rams are already assisting in that learning process, setting up opportunities for him to meet with members of different departments earlier this spring.
Quotable: "He's been (a 3-down linebacker) his whole career. He's one of those guys that can play every single down. He's one of those guys also that you want to figure out how to play with Ernest a little more, maybe more nickel (packages), maybe more two-backer defense when you play base and some of those things like that. But I think all those things will play itself out as you get into the season, and you start game planning, doing some different things. But he's certainly a guy who can go out there all three downs and play every single snap of the season. That wouldn't shock me one bit if he was able to do that." – Rams defensive coordinator Raheem Morris on if Wagner is a player who never comes off the field