With the offseason program complete and Rams Training Camp starting up in late July, it's time to look ahead. As part of the preparation for training camp, theRams.com will be spotlighting a handful of players new to the Rams' roster. Continuing the series is rookie outside linebacker Byron Young.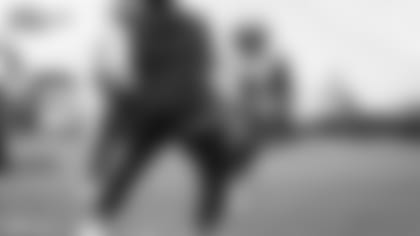 How He Got Here: The Rams used their second selection in the 2023 NFL Draft on Young, taking him 77th overall in the third round.
What's Next: Finding a role in the pass rush rotation. Michael Hoecht and Daniel Hardy are the most experienced players in the position group, and the Rams also added two other rookies in Ochaun Mathis and Nick Hampton to it, but Rams head coach Sean McVay said every spot on this team is going to be earned, indicating there's an opportunity for Young to earn a meaningful role in his first season.
Bet You Didn't Know: Young's Tennessee bio said he modeled his game after Khalil Mack, and the two have similar athletic comps coming out of college. Kent Lee Platte, who created Relative Athletic Score, has the data below.
Quotable: "He's doing a good job. We're throwing a lot at him. I think (Outside Linebackers Coach) Joe Coniglio has done an outstanding job in general, really with a lot of those rookies. Whether it's Byron, Ochaun, you look at Nick, three rookie draft picks from the outside linebacker spot. But Byron, incredible athleticism. He looks like he's chiseled out of granite out here (laughs). But he plays with a relentless motor. He's conscientious, he's coachable as hell. And I think he's really going to only continue to get better." – McVay after Day 1 of mandatory minicamp