With the offseason program complete and Rams Training Camp starting up in late July, it's time to look ahead. As part of the preparation for training camp, theRams.com will be spotlighting a handful of players new to the Rams' roster. Continuing the series is rookie linebacker Nick Hampton.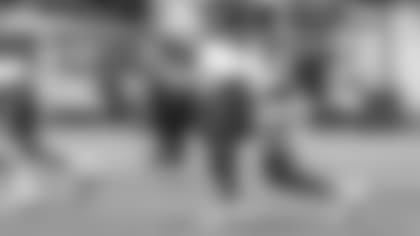 How He Got Here: The Rams used their fifth selection in the 2023 NFL Draft on Hampton, taking him 161st overall in the fifth round.
What's Next: Finding a role in the pass rush rotation. Like draft classmates Byron Young and Ochaun Mathis, Hampton enters an outside linebacker room with Michael Hoecht and Daniel Hardy as the most experienced players, but there are still plenty of snaps up for grabs with the departure of Leonard Floyd – and during last season, Justin Hollins and Terrell Lewis. As mentioned in Young's newcomer update, Rams head coach Sean McVay said every spot on this team is going to be earned, suggesting there's an opportunity for Hampton and other rookies to earn meaningful roles in the rotation in their first season.
Bet You Didn't Know: Hampton made The Athletic's Bruce Feldman's annual "Freaks List" this past season in part because of adding 40 pounds of weight since entering college. He arrived at Appalachian State weighing 200 pounds in 2018 and stood 6-foot-3, 240 pounds in 2022. Feldman reported Hampton "incline-presses 365 pounds; sumo deadlifts 600; can broad-jump 10-6, vertical 39 inches and hits 21 mph on the GPS. His flying 10-yard sprint time is 1.20."
Quotable: "I think (Outside Linebackers Coach) Joe Coniglio has done an outstanding job in general, really with a lot of those rookies. Whether it's Byron, (LB) Ochaun (Mathis), you look at (LB) Nick (Hampton), three rookie draft picks from the outside linebacker spot. ... I like what I've seen really from all three of those young guys." – McVay after Day 1 of minicamp