This week's matchup with the Jaguars (1:05 p.m. pacific time, FOX) marks the Rams' My Cause My Cleats game, in which 33 players – as well as three coaches – will use their footwear to draw attention to charitable causes they are passionate about.
Ahead of the contest, TheRams.com took a closer look at causes championed by third-year safety Nick Scott, third-year linebacker Troy Reeder, and fourth-year running back Sony Michel, and what those causes mean to each player.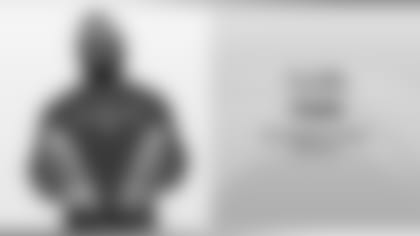 Nick Scott – THON (Penn State Dance Marathon)
THON aims enhance the lives of children and families affected by childhood cancer by providing emotional and financial support, spreading awareness and ensuring funding for research. That year-long effort culminates with a 46-hour dance marathon.
With the help of 16,500 student volunteers, the philanthropy has helped 4,800 families and raised $190,000,000, according to its website.
"It's the largest student run philanthropy in the world, which is something that Penn State has a lot of pride in. And they're really good at getting the entire school involved," Scott told theRams.com this week. "So, freshman year in college, the football team every year goes to Hershey Hospital, (and) we visit with some of the kids and families who are affected by pediatric cancer. Just hearing their stories, it's very easy to get touched and build relationships. And unfortunately, one of the sad parts about building those relationships is you don't always get to see them through, so that kind of touches you pretty early. Once I had that experience, I just always want to give back and be a part of the giving process and shed light on people's situations and try to help them the best way possible."
Scott's cleats have a number of little details that carry importance.
The gold ribbon shown is the same one worn by Penn State players on their helmets for the THON game. The four diamonds is "more or less the THON logo," according to Scott, and "has some unique representation." There's also FTK – the abbreviation for the philanthropy's slogan "For The Kids."
"There's a lot of cool little details that if you just take some time out of your day to kind of look what those things mean, look them up real quick and check them out, I think a lot of people would find it easy to get behind that cause," Scott said.
Scott hopes that using his cleats to draw attention to the cause raises more awareness and brings "more people "into the THON family."
"Especially when we have the dance marathon, which is probably the largest event to raise money for THON, which I was lucky enough to be a part of it," Scott said. "And yeah, just shed light on those peoples' stories and bring money in to benefit them and help them with their situation."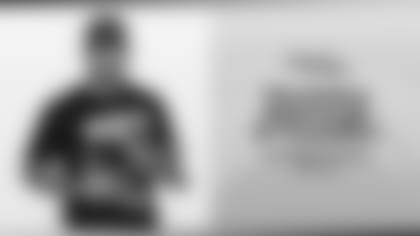 Troy Reeder – Andrew McDonough B+ Foundation
Like Scott, Reeder's cause is one he became involved in as a teenager.
A native of Hockessin, Delaware – about 10 miles outside of Wilmington – got connected to locally-based Andrew McDonough B+ (pronounced be positive) Foundation in high school and became even more involved at the University of Delaware. Similar to Penn State's THON, the University Delaware hosts a student-run philanthropy called UDance to raise money to help families impacted by cancer. Since 2007, it has raised more than $14.6 million benefitting the Andrew McDonough B+ Foundation.
Reeder said that each sports team, fraternity and sorority gets a B+ Hero. For Reeder and his football teammates, that was a boy named Danny Feltwell, whom Reeder still remains close with to this day and will be attending a Rams home game this month.
"Andrew McDonough was a couple years older than me, he went to my high school before I got there, and he lost his battle with cancer," Reeder said. "And that's how the foundation got started with his dad and his family. So it's just something that's close to me because it's close to our community, and it's even closer now that I've got a chance to meet some some of the kids and build relationships with them."
When it comes to the details of the cleats, the toe features the B+ logo, with the Andrew McDonough B+ Foundation on the other side. A couple of Rams head logos are also there. In the past, Reeder has incorporated the names of B+ Heroes, but this year he's doing the logo and foundation, plus the Rams logo, to help spread the word about the foundation.
Reeder wants to draw attention to the cause in part because of what the foundation offers beyond financial assistance.
"I know there's thousands of pediatric cancer foundations out there. This one's super close to me," Reeder said. "So it's not just necessarily raising awareness about this foundation, but it's about what this foundation supports. And they're not necessarily just supporting the children going through this, but it's the families – they provide mental health, financial help. No parent or sibling should have to go through some of the stuff that we've seen them go through. In the last year, two of the kids I was pretty close with lost their battle, both of them high school age. It's just kind of eye opening like, there's a lot a lot of stuff good and bad that happens on the football field, and you gain a lot of perspective when stuff like that happens in your life that's so tough."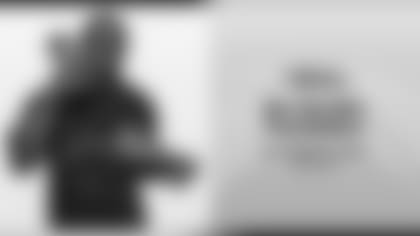 Michel's connection to the Be Like Brit Foundation dates back to 2018, his rookie year with the New England Patriots.
The foundation was started in memory of Britney Gengel, a 19-year-old Massachusetts native who was one of 300,000 people who died in the Haiti Earthquake on January 2, 2010. According to the foundation's website, Gengel was committed to helping the children of Haiti, and her last wish was to start an orphanage, which led to her family forming the foundation.
It was a natural cause to support for Michel.
"Especially with the background, and with me being Haitian, it's a foundation that supports the Haitian community, that does a lot of work in Haiti," Michel said. "They're the ones who I decided to do a little bit of work with. I think they do some good work by having an orphanage in Haiti and giving back to the kids, the youth. I'm big on the youth because they're the next generation, they're the future. Anything for the young ones, I'm for it."
The design for Michel's cleats include a little bit of everything, including both the good work going on in Haiti as well as hurricanes, earthquakes and poverty the country deals with – all intentional choices.
"Some of those things are labeled on the cleats," Michel said. "And it's just to bring awareness. I think that's the biggest thing when we do My Cause My Cleats."
Besides awareness, Michel hopes the attention drawn to the foundation using his platform benefits the foundation financially.
"Let's raise as much money as we can," Michel said. "That's huge, man. The more people bid, the more this foundation can get. That's the goal."