THOUSAND OAKS, Calif. – Nick Scott enjoyed spending time visiting children and their families in hospitals as a way of being involved in the Penn State community, but he didn't want to stop there.
"My personality is trying to push for more, do more, so I wanted to reach out more," Scott told theRams.com. "I had so much fun in the past with hospital visits. A lot of times, we'd have kids and families over to the facility and we would play games, we would have mazes, and play two-hand touch, all that stuff. The weekend of THON, all the sports did some kind of thing like that, where they hosted a family or two or just had a whole bunch of families. So I was always trying to do more."
In the process, he established a connection to one of the most important parts of his life.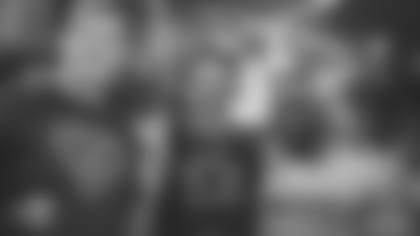 Finding a way to get involved
Scott's passion for THON began with those families at Penn State Health Milton S. Hershey Medical Center.
The Fairfax, Va., native felt it was his responsibility to use his platform to create a positive impact on the university at-large, but the obligations that come with being a student athlete at times limited how involved he and others could be in the community. Scott also sought an additional outlet beyond the football team to do that.
"Meeting those families and kids, it really puts things in perspective of the type of opportunity we have and how blessed we are each and every day – one, with good health, and two, to be able to do what we're doing at the university and represent the university in a big way," Scott said.
He would also receive inspiration from a teammate who arrived on campus a year earlier in offensive lineman Charlie Shuman.
Shuman had already danced in THON and shown a commitment to helping children before. During his senior year of high school, the 6-foot-8 offensive tackle started his own non-profit called Big Helping Little, which raises funds to help families dealing with rare diseases and the costs associated with those diseases not covered by insurance.
The cause began as Shuman's National Honor Society project after meeting a toddler named Maiya, who had endured multiple surgeries to treat a rare disease called progressive osseous heteroplasiathe (POH). According to the National Organization for Rare Disorders, POH is characterized by "abnormal development of bone in areas of the body where bone is not normally present."
"Charlie is an amazing individual," Scott said. "I think he deserves a lot of credit for my success with THON and my being involved with THON, because through him, I learned so much information. I always admired him for how much time outside of football he put into THON and his foundation and other organizations like that."
Their junior year, Shuman and Scott were voted in as THON dancers through their involvement with an exclusive organization which represented a group of student leaders.
Although THON weekend was taking place right in the middle of winter workouts, they were fortunate to have supportive coaches who helped make it happen – including head coach James Franklin and director of performance enhancement Dwight Galt III.
"Me and Coach Franklin have a great relationship," Scott said. "He's the type of coach where, no matter what it is, football or anything like that, you can always talk to him. You can just walk into his office, he's got an open-door policy."
All that was left was taking the necessary health precautions to ensure he could participate and not miss a beat once he returned to the team.
According to its website, THON's mission is to help children and families affected by pediatric cancer through emotional and financial support, spreading awareness and ensuring funding for critical research.
The organization's year-long fundraising efforts culminate with a 46-hour dance marathon held annually. This year's takes place this weekend – Feb. 21-23 – at Penn State's Bryce Jordan Center.
Dancers stand for the entirety of the event – no sleeping, no sitting. Consequently, that can throw off a crucial component to an athlete's recovery process after 5 a.m. winter workouts, which Scott had twice a week.
"That being the case, I wanted to bring it up with (Franklin and Galt) and hear their thoughts," Scott said. "Long story short, they were both on board, like, 'This is awesome, we think it's great.'"
Once Scott was cleared to dance, they made sure he was on the same page with the athletic training staff and eating right in the days leading up to THON weekend.
Scott went the full 46 hours at THON 2018.
"It was non-stop, but it was fun," Scott said. "It was a really fun time."
"Not only was Coach Franklin on board, he gave me enough money to make me one of the highest fundraisers," Scott said.
Scott got to miss one winter workout, given the option by Franklin and Galt to sleep in rather than going to Penn State's first practice after THON. Scott said he chose to attend that practice, then slept in the next day.
His involvement, though, was far from over.
Scott's commitment to using his platform to create a positive impact and stay involved with the organization has not wavered since his junior year.
He still receives emails with ways he can help out, and the story of his involvement also keeps him connected. Penn State also continues to provide several opportunities for him to stay involved, whether it's donating to certain people or others reaching out to him because they know his story. Scott said he often sends jerseys, helmets, gloves and other apparel to people as auction items benefitting the cause.
"I may not always directly be able to donate directly to them in their name for THON, but I'm always open to helping people raise money for THON however I can, using my platform," Scott said.
This year, that will include being a special guest alongside Shuman and former Penn State teammate Trace McSorley at the annual Hope Gala founded by the New York City Chapter of the Penn State Alumni Association, scheduled to take place Saturday, March 21 at Gotham Hall.
"When people hear about (THON), they constantly want to hear my story, which is always encouraging me to just keep doing what I'm doing," Scott said.