Since Sean McVay took over as head coach in 2017, the Rams have annually produced one of the NFL's top performing offenses. His own players, in fact, have regarded the league's youngest head coach as a "modern day genius" and someone with a "creative mindset" when it comes to his schemes.
However, as defensive coordinators gain more exposure to L.A.'s offense, they start to recognize concepts and develop a better understanding of what to look for. Consequently, it forces McVay to make modifications, and the 2019 season is no different. 
"I think it's a game that you've got to always adapt, adjust, and evolve," McVay said. "I think coaches do a great job of doing that."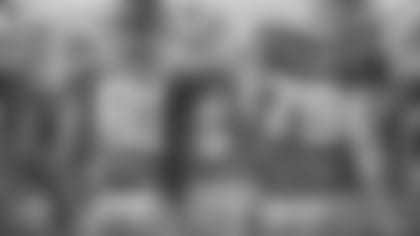 While perceived to be a revolutionary scheme, in reality, it's just McVay molding L.A.'s offense around each member of the unit and what they excel at, according to QB Jared Goff's comments at Super Bowl media day earlier this year. 
Still, as McVay indicated, that doesn't mean the Rams can get complacent with what they choose to run offensively. 
Part of those adjustments, and staying ahead of ones opposing defenses are likely to make, comes from self-assessment by the coaching staff. 
"The challenge for us as coaches, whether it be offense, defense, special teams, is always to stay up to date, not lose sight of what some of the foundational things are that have helped you sustain a certain level of success," McVay said. "Or what you haven't done great, you've got to be able to fix that. We talk about being able to face it, fix it and then do it better the next time." 
It has been an effective approach so far. 
The Rams finished 10th in the NFL in total offense during McVay's first season in 2017, producing 361.5 yards per contest. They also averaged the 10th-most passing yards and 8th-most rushing yards in the league that year. 
In 2018, those rankings jumped to second, fifth and third respectively in those categories behind 421.1 total yards per game, 281.7 passing yards per game and 139.4 rushing yards per game.
Understandably, McVay wouldn't reveal exactly what those changes will look like in order to avoid giving the Carolina Panthers some early help with their game prep. 
McVay said it's "hard to say" what kind of offensive changes people may see. Adjustments are like a chess match, he explained – the offense responds based on what the defense shows or throws at them, and vice-versa.
If there's one thing that can be counted, on, though, it's the Rams adapting against Carolina in Week 1 and throughout the regular season.
"On both sides of the ball, we've expected to adapt and evolve," McVay said. "We are looking forward to see if that shows true against a great opponent on Week 1."