The Los Angeles offense was reluctant to roll out its rookies in 2018. From a play-making perspective, head coach Sean McVay's unit relied heavily on its shortlist of high-flying wide receivers and the NFL's leader in touchdowns out of the backfield. In the trenches, the second-year head coach relied even more heavily on his heaviest players — members of the mostly-veteran Built Ford Tough Offensive Line of the Year.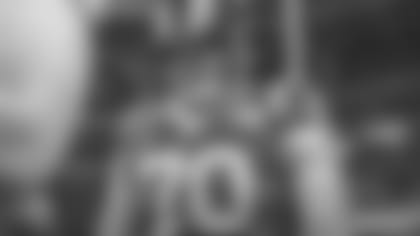 Each member of the Rams starting offensive line played at least 94-percent of offensive snaps in the Super Bowl season. The right side of the line — guard Austin Blythe and tackle Rob Havenstein — played every single snap.
If anyone felt the consequences of the L.A.'s enduring O-line, outside of the pass rushers who came up short of sacking quarterback Jared Goff and the defenses that watched running back Todd Gurley burst out of the backfield, it was rookie offensive lineman Joseph Noteboom.
Noteboom — the Rams top draft pick in 2018 (Round 3, No. 89) — appeared in all 16 games in of his rookie season, but played just seven percent of all snaps, making him the second-most called upon rook in McVay's offense, but just by a smidge. He finished the year trailing undrafted wideout KhaDarel Hodge in snaps by fewer than one percentage point.
Following his first season as a pro, mostly spent a few feet from football's top playing field, Noteboom is not complaining — in fact he doesn't say much at all. The 6-foot-5, 321-pound 23-year-old is often teased for being the quiet guy around the Rams facility.
"Coming in being a rookie, you never want to be the loud and annoy the veterans, so just coming in, this is all still kind of star-striking for me," Noteboom explained. "Just seeing guys like [LT] Andrew Whitworth, [former LG] Rodger Saffold, guys that I've been watching for 10 years now, idolizing those guys and then coming in here — it's hard not to stay back and watch them, observe how they do things."
"I don't see any disadvantages to sitting out a year, you're maybe getting less experience on the field, but getting those practice reps was basically all I needed and that film work," the rookie added. "I'd say it's more advantageous than disadvantageous."
Noteboom's noticed former center John Sullivan's impressive football knowledge and film study, Saffold's weight room work ethic, and Whitworth's leadership on and off the field in year one. He says the combination of those examples of veteran, role-model guidance, along with offensive line coach Aaron Kromer's focus on developing youth in McVay's line — specifically when his proven veterans took their weekly rest day — has readied him for the playing field whenever his time comes.
"That's been one of the best things about being here so far, is just kind of having those veterans to just guide me along the way, having the redshirt year to watch those guys and see how they do things on and off the field," Noteboom said. "Getting to sit behind those guys, getting to watch for an extra year, letting me sit back and kind of observe how they do things, I kind of modeled my game after that and got a bunch of practice reps for Whitworth and Saffold."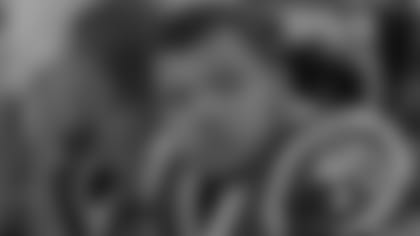 The offensive line apprenticeship could flip to NFL action quick for Noteboom, considering Sullivan's departure in free agency, Saffold becoming a Tennessee Titan, and Whitworth tossing retirement aside for season 14.
Addressing the media after adding safety Eric Weddle to the defense earlier this month, general manager Les Snead described Noteboom as the hypothetical "heir" to Saffold's vacated seat at left guard after nine seasons on the offensive line. And although the GM did not rule out drafting a starting lineman, Noteboom, who is listed as a tackle, but cross-trained at guard — a staple of Kromer's coaching — doesn't blink when considering a larger role in 2019.
"Just knowing that anything can happen — guys can get hurt, guys can leave — you want to be prepared, you don't want to be the new guy coming in and slacking, being a weak spot on the O-line, so you just kind of work hard," Noteboom said, before describing the product of his time so far as the "new guy" in the offensive line room.
"Nothing when you go into the game is going to be unexpected, you just kind of know that and go out there and play 100 percent and it all works out."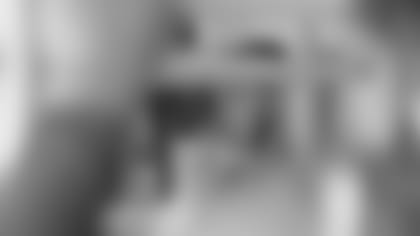 The next-in-line former Horned Frog doesn't have it all figured out after his first professional season as a soft-spoken observer — but he sure wants to. Noteboom was quick to rattle off how he hopes to improve before the possibility of sliding into the spotlight next season.
"I want to figure out how to study the defense little more, kind of get a bigger picture. I know a lot about the D-line, linebackers, so I just want to work on seeing the whole picture, see what the center sees because they pretty much know everything because they make all the calls," Noteboom said. "Once you get all the film work done and studying, you kind of just go out there and play."
Catch more of Noteboom's take on year one in the NFL on Episode 2 of Behind the Grind Season 2, premiering on therams.com and FacebookWatch Thursday, March 28 at 6 p.m. PT.