THOUSAND OAKS, Calif. –What to do at left tackle?
It is one of the most important questions – perhaps the most important – facing the Rams this offseason, with starter Andrew Whitworth scheduled to become a free agent this offseason.
"Whit has obviously said he wants to come back and play," Snead said during a lengthy conversation with beat writers at the team's facility Tuesday morning. "We've got to sit down and discuss, 'Is that the best thing for the Rams? Is it not?' That will come."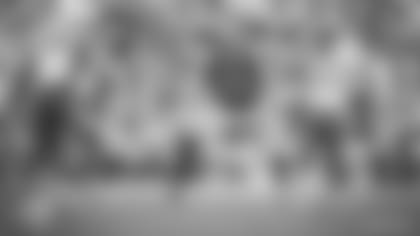 Spending the last three seasons anchoring the left side of the Rams' offensive line, Whitworth has missed only one regular season game during that span. This past season, he posted a 94 percent Pass Block Win Rate, a metric created by ESPN which measures the rate at which linemen can sustain their blocks for 2.5 seconds or longer. It ranked second among all offensive tackles evaluated this season.
The former LSU standout wants to continue playing in 2020 and said this week he would "love" to remain in Los Angeles. At the same time, he will do his due diligence when it comes to listening to offers from other teams.
"I look forward to continue playing and play at a high level. Hopefully the opportunity will be here," Whitworth said. "Obviously, anytime you're a free agent, you gotta listen to everything and figure out what's best for you. Of course, for me and my family, being a Ram would be number one on the list without question."
Beyond reaching an agreement on Whitworth's value, another challenge in answering the posed question is the health of one his possible replacements.
Snead said 2018 third-round pick Joe Noteboom, who started the season at left guard, was slated to be Whitworth's replacement, but those plans were complicated when Noteboom suffered season-ending ACL and MCL injuries in Week 6. The setback required surgery and landed Noteboom on injured reserve.
"Unfortunately that muddies that water in our ability to continue evaluating him at guard, and then the ability to go, 'Ok, is he ready to take on that role in year three coming off an ACL?" Snead said.
Another variable in the equation is rookie Bobby Evans.
Although the 2019 third-round pick made seven starts at right tackle this season, he also projects as a guard or left tackle, according to Snead.
"The ideal left tackle is probably easier to describe than actually identify and acquire," Snead said. "That's a harder piece of the puzzle."
When asked to define the ideal left tackle – or a left tackle in their prime – Snead described a scenario in which a team has drafted that player, and that player has gained experience and learned from "hiccups" along the way in order to become more consistent and trustworthy. They are young enough that they can hold their own against some of the league's most skilled pass-rushers, but also have gained enough knowledge to lean on from losing some of those one-on-one battles.
The ideal left tackle, then, could already be on the Rams' roster in the form of Noteboom or Evans. However, given his and Evans' small sample size for evaluation, even with with some of their preseason cross-training along the offensive line, Los Angeles could need Whitworth again to allow for another year of grooming to meet the criteria outlined by Snead.
This much is clear: What do at left tackle is not only one of the most important questions of the Rams' offseason, but a complicated one as well.
"It will be interesting to talk through that position," Snead said.