The Rams' offense is coming off a performance which produced its second fewest points in a game this season, but Bears head coach Matt Nagy isn't expecting a repeat at the Coliseum Sunday.
"No. 1, you understand that they've done a lot of good things over the past couple of years," Nagy told reporters this week. "And there's times where you hit some ruts and things aren't clicking maybe as much as you want them to, but they're explosive."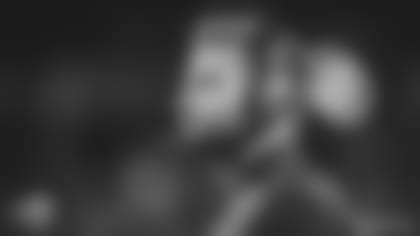 Heading into last year's Week 14 meeting, Los Angeles was second in the NFL in both total yards per game (439.9) and tied for second in points (34.9) per game. It had scored fewer than 30 points just once through their first 13 games.
Chicago's defense ended up holding L.A.'s offense's to just six points – at the time, only the second time ever in the Sean McVay era that the Rams failed to reach double digits in scoring – and 214 total yards of offense, which would end up being their fewest in a single game during the regular season.
Is Nagy seeing teams do things similar to what the Bears defense did last year to try to slow down the Rams offense?
"It's hard to say," he said on a conference call with Rams beat writers. "All of these teams, at some point, you hit some patches where you have to figure some things out and re-adjust and all that. We're going through that right now offensively. That's a part of this game, that's why we coach this game is for stuff like that. Whether you say teams have figured them out, I don't necessarily agree with that. I just think there is a lot of things that go in to it. Again, as a coach when you have these challenges, you look forward to trying to fix them, and I know that's what they are doing right now."
When it comes to studying film of last year's game, Nagy said both teams may "peek at it." However, standard scheme and personnel changes that take place between seasons don't make it as useful as one would expect.
"It's completely different," Nagy said.
Even with last week's performance, the Rams' offense still ranks 12th in the NFL in total yards per game and 10th in points per game.
"They have an identity they work off of," Nagy said. "Even when you have that identity, there's some times where it's not as explosive, but we know at any given time, with the playmakers they have, they can score a lot of points."