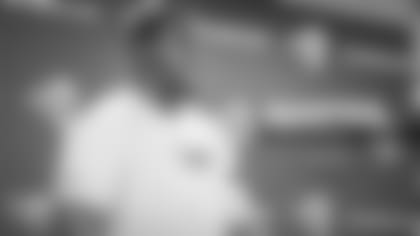 "You can tell it's a brotherhood and this locker room is one as a whole."
-RB DARRELL HENDERSON
The Rams traded into the third round to add Darrell Henderson out of Memphis to their running backs room.
Henderson seemed pleased with his new teammates after hitting the field for the first time in Los Angeles on Tuesday and said running back Todd Gurley's biggest piece of advice was "don't be afraid to mess up."
Henderson rushed for 1,909 yards and 22 touchdowns in his final season at the college ranks, averaging 8.9 yards per carry.
"That's a lot of who I am as a person and as a player — just that want-to and that hunger."
-S NICK SCOTT
Special teams coordinator John Fassel was big on adding safety Nick Scott to his unit since well before he was taken in the seventh round of the 2019 NFL Draft.
On Tuesday, Scott spoke extensively about his experience on special teams. He played in all four phases of special teams while at Penn State and won the team's special teams player of the year award as a freshman before two seasons as a ST captain.
"He was like, 'Dude just come in and work.'"
-OL DAVID EDWARDS
The Rams got another University of Wisconsin offensive lineman in 2019 in David Edwards — who shared right tackle Rob Havenstein's dose of advice as a fellow former Badger.
Edwards, who took reps at left guard in Spring practices at Wisconsin, said he looks forward to playing multiple spots on the offensive line for a greater understanding of the offense.
"Actually coming out and being on the same field as those guys like Aaron Donald, obviously it's crazy. Like wow these guys are superstars, but I'm on the same field as them."
-OL BOBBY EVANS
Offensive lineman Bobby Evans spent three seasons on the University of Oklahoma campus with both Browns quarterback Baker Mayfield and Cardinals quarterback Kyler Murray, but he found himself a bit star struck Day 2 in L.A.
Evans, who has a full season at both left and right tackle under his belt, said he believes there's a possibility that he could play all four spots on the O-line — a challenge he's up for.
Run game coordinator/offensive line coach Aaron Kromer usually cross-trains rookie offensive lineman at multiple spots along the OL.
"They really like to preach learning from the veterans, the older guys and that's what I've been doing."
-LB DAKOTA ALLEN
Rams seventh-round linebacker Dakota Allen is ready to lean on his new veteran teammates in year one.
He specifically mentioned linebacker Cory Littleton's path to his starting role on defense as an undrafted player. He spent time on special teams before landing in the middle of the L.A. defense.
Allen posted 17.5 tackles and grabbed four interceptions in 34 games at Texas Tech.
"I was trying to watch every little thing Aaron Donald did."
-DT GREG GAINES
Defensive tackle Greg Gaines said the coolest thing about being in L.A. is the chance to learn from players like Donald and defensive tackle Michael Brockers as the newest member of the defensive line.
Gaines said he believes he can be the 'starting nose-type guy' that both head coach Sean McVay and general manager Les Snead forecasted of the former Washington Husky, who was selected in the fourth round.
Gaines logged 9.5 sacks and 21.5 total tackles for a loss in four seasons in Washington.
"To be able to be thrown in that secondary with those guys, it's almost the perfect fit for me."
-S TAYLOR RAPP
The Rams top draft pick in 2019 will join a proven veteran in safety Eric Weddle and rising third-year safety and the Rams leader in interceptions in 2018, John Johnson, in his first season as a pro — an opportunity the young DB looks forward to.
Rapp finished his three years at the University Washington with seven interceptions — four of which came as a true freshman.
As for a role in 2019, Rapp said he plans to improve daily and see what happens come Week 1.
"They allow corners to press and that's what I did at Michigan."
-CB DAVID LONG JR.
Former Michigan standout corner David Long Jr. sees a fit for his skill set in coordinator Wade Phillips' defense.
As for where he fits into the stacked Los Angeles secondary, Long said he plans to show he's dependable, accountable, and willing to help the team.