It is Mock Draft Monday on theRams.com, where we will be taking a look at experts' projections for who the Rams will select in the 2023 NFL Draft.
The majority of the latest projections were published ahead of this week's 2023 NFL Scouting Combine in Indianapolis and continue to feature edge options, with tight end in the mix now as well.
Here's a roundup of the latest predictions: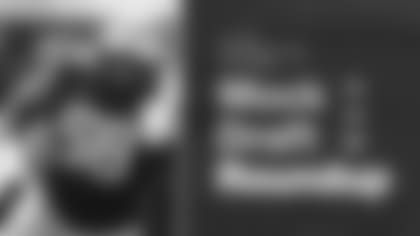 Expert: Chris Trapasso, NFL Draft analyst
The pick(s): Michigan DL Mazi Smith (pictured above)
Notes: Smith, 6-3 and 337 pounds, started all 14 games at nose tackle for the Wolverines in 2022, recording 48 total tackles, half of a sack and one forced fumble. He was a consensus First Team All-Big Ten selection last season as well.
Expert: Jourdan Rodrigue, Rams Beat Writer
The pick(s): Oregon State TE Luke Musgrave (Round 2, No. 36 overall); Auburn EDGE Derick Hall (Round 3, No. 69 overall)
(Note: Full mock draft covers the Rams' full current allotment of picks.)
Notes: The No. 41 prospect on NFL Network draft analyst Daniel Jeremiah's Top 50, Musgrave (6-foot-6, 255 pounds) posted 11 catches for 169 yards and one touchdown in two games prior to sustaining a season-ending knee injury in 2022. He had 22 catches for 304 yards and one touchdown in 2021 while starting nine of 13 games played.
Hall (6-3, 252) registered a team-high 12 tackles for loss and seven sacks last season for Auburn, adding 60 total tackles, an interception and two forced fumbles in 12 starters for First Team All-SEC recognition.
Expert: Trevor Sikkema, NFL and NFL Draft analyst
The pick(s): Arkansas EDGE Drew Sanders
Notes: A finalist for the collegiate Butkus Award (nation's top linebacker), Sanders led the Razorbacks with 103 total tackles, 13.5 tackles for loss, 9.5 sacks and three forced fumbles while starting 12 games before opting out of their bowl game to prep for the draft. He also logged an interception and five pass breakups en route to First Team All-American recognition from The Associated press as well as First Team All-SEC honors.