THOUSAND OAKS, Calif. – Rams QB Jared Goff practices against the reigning NFL Defensive Player of the Year and is set to face a former one for a second time, so his perspective on each is one few other quarterbacks around the league can claim.
Yes, DT Aaron Donald and OLB Khalil Mack play two different positions, but there's still one constant that remains, according to Goff.
"You just feel them, both of them," Goff said. "Aaron in practice, you know where he is – pre-snap, during the play, after the play – same thing with Khalil you have to be aware of him. Then, during the play, you're always feeling his presence whether it's during, after or before."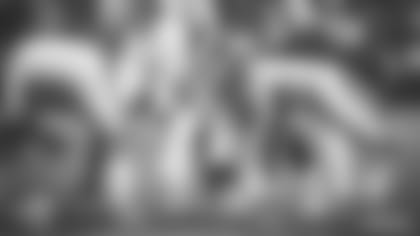 Donald and Mack meet again for the second time in less than a year when the Rams take on the Bears Sunday at Los Angeles Memorial Coliseum, putting two of the league's premiere pass-rushing talents on display.
Together, the duo have accounted for each of the last three NFL Defensive Player of the Year Awards – Donald going back-to-back over the last two seasons, with Mack winning it for the 2016 season.
When Los Angeles and Chicago met at Soldier Field last December, Mack posted three total tackles, one tackle for loss, one sack and two QB hits in a 15-6 Bears win. Donald registered two tackles and one QB hit in defeat.
"He's just a playmaker," Donald said. "He dominate. If you don't got a gameplan for him, he can take over a game. He been like that for the last couple years. We've got to try to find a way to slow him down, different type of ways, different gameplans, because if you don't, it will be a long day."
"Everything, man, everything," said Mack, when asked what he appreciates about Donald as a pass-rusher. "Speed, power, everything that guy does, he does it at a high level, and it's impressive to watch."
Donald's 20.5 sacks during his repeat Defensive Player of the Year campaign set a new single-season record for an interior lineman and a new single-season franchise record.
When Mack took home the award three years ago, he posted 10 sacks, 13 QB hits, five forced fumbles, three fumble recoveries and a pick-six over the final eight games after have just one through his first five. According to NFL research, his 26 QB hits on the season were second only to Donald's 31.
Does Mack keep track of Donald's stats every week?
"It's hard to care about the other people when you care about yourself, you know what I'm saying?" Mack said, smiling. "I'm worried about my box score and what I'm doing."
Besides being a constant pre-snap check for quarterbacks, both players are also versatile for their positions. For Donald, that's lining up in various spots along the defensive line. For Mack, it's being used in coverage and the ability to rush from either edge.
"He's a phenomenal player, you definitely have to account for him and know where he is on every single snap," Rams head coach Sean McVay said of Mack.
"We'll account for him in protection and give him the respect he deserves as a great player in this league," Bears QB Mitchell Trubisky said of Donald.