The Rams (5-4) and the Bears (4-5) will square off at 5:20 pacific time on Sunday Night Football, facing each other for the second time in less than a year.
The two teams last met last season in Chicago, a 15-6 Bears win in early December. At the time, it was only the second time ever in the Sean McVay era that Los Angeles failed to reach double figures on the scoreboard.
To get you ready for the contest, theRams.com compiled a quick preview featuring who to watch, what to watch for on offense and defense for both the Rams and the Bears and three keys to victory for L.A.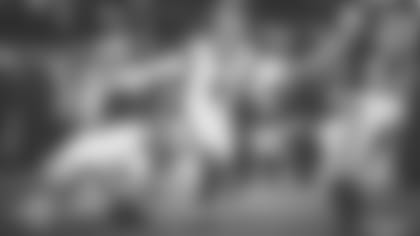 Rams NT Sebastian Joseph-Day: He'll have some extra motivation this weekend playing in front of his parents for the first time in his NFL career.
Rams T Bobby Evans: He's expected to be active for the third time this season and will face a stiff test against a formidable Bears defensive line.
Bears OLB Khalil Mack: Last year, he had a strip sack and a pick-six – all in the first half – in his Chicago debut, and he's still capable of making those types of game-changing plays.
Bears WR Allen Robinson: He'll likely draw former Jaguars teammate Jalen Ramsey as his defensive assignment, and at 6-foot-2, 220 pounds, he's a big target for QB Mitch Trubisky.
Rams K Greg Zuerlein: The last time these two teams played, Zuerlein accounted for all six of L.A.'s points.
The approach with the makeshift offensive line and how it impacts the rest of the unit.
Veteran LT Andrew Whitworth, a 14-year pro, and fourth-year OL Austin Blythe will be dealing with some inexperience with RT Rob Havenstein out for the game and C Brian Allen out for the rest of the season.
From a scheme and personnel standpoint, it will be interesting to see what adjustments that leads to in trying to limit Mack's impact.
Primarily the tight end situation and how that impacts what they can do scheme- and personnel-wise. Ben Braunecker has 45 career games under his belt and has played all four seasons in Chicago, though, so it's not as if they're throwing a completely inexperienced player out there to step in for Burton and Shaheen.
The availability of leading rusher David Montgomery, who has been hobbled by an ankle injury this week, will also be worth monitoring.
If Montgomery does play, what impact he can still have on the game. If he doesn't play much, whether that results in more of backup Tarik Cohen, who is also a receiving threat out of the backfield, in action.
While the primary wide receiver/cornerback matchup focused on Robinson and Ramsey, Los Angeles will also have to make sure it accounts for WR Taylor Gabriel.
Gabriel's four longest receptions on the season have gone for 22, 24, 36 and 53 yards. He's a big play threat out of the slot, which means CB Nickell Robey-Coleman figures to have an important role for L.A.'s defense on Sunday.
Fourth-year LB Nick Kwiatkoski stepped in for the injured Danny Trevathan and managed to play a crucial role in Chicago's 20-13 win at Detroit, collecting an interception that helped give it a 14-point cushion which would be enough to hold on for the victory. He'll likely fill in for Trevathan again this week and will be an important player to watch on the Bears' defense.
Contain Mack: Easier said than done, but you don't have to look any further than how he fared statistically in his Bears debut – and his overall resume – for what can happen if the gameplan to limit him doesn't get executed.
Create takeaways: The Bears have committed the fifth-fewest turnovers NFL, so it will be up to the Rams defense to create them in a game that may see few scoring opportunities for both sides.
Create explosive plays in the run game: Chicago allows the ninth-fewest rushing yards per game. Those types of plays won't come off in that phase of the offense, but last week's game at Pittsburgh showed the importance of being able to take advantage when those openings do occur.