THOUSAND OAKS, Calif. – For the second consecutive week, the Rams' defense will face another strong rushing attack.
This week, though, it will be the 49ers bringing the NFL's No. 1 rushing offense to the Coliseum.
"Their running game is really going to test you," Rams defensive coordinator Wade Phillips said. "We've got to play better defense (this week).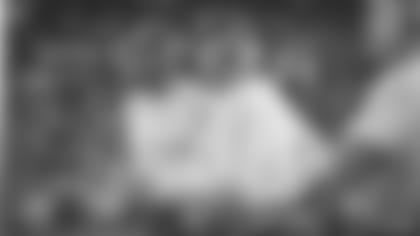 Improvement sits at the front of Phillips' mind for a reason.
Heading into Week 5, Los Angeles' defense – which was limiting opponents to the ninth-fewest rushing yards per game at 91.8 – was preparing to to face a Seattle offense that averaged 111.5, good for 16th-most in the league. The Seahawks finished with 167 last Thursday, most allowed so far this season in a performance not up to the Rams' usual high standards.
The 49ers, meanwhile, are averaging a league-high 200 rushing yards per game through the first five weeks of the season and coming off a 275-yard performance against the Browns on Monday Night Football. Their total rushing yards alone exceeded Cleveland's 180 total yards of offense.
"They make a lot of plays," Rams DT Aaron Donald said. "They're the best running team in the National Football League right now, so we've got our hands full with that. We've got to be disciplined, gap-sound and get after it."
The role of San Francisco's offensive line and historical success also factor heavily into present production.
Since Kyle Shanahan took over as head coach in 2017, scouting service Pro Football Focus has graded San Francisco's offensive line as a top-six run blocking unit each of the last three seasons with 2019 included. They were sixth in 2017, improved to fourth in 2018 and currently rank third this year.
Perhaps coincidentally, the 49ers have gone from 21st to 13th to 1st in rushing and have yet to average fewer than 104 yards per game in a season.
Phillips sees a third key factor: health.
"They've always wanted to run the ball and they've had some success, but they've some had some people banged up," Phillips said. "So that's hurt them some, but now they're at full strength."
What makes the 49ers' production remarkable is that they've done it without their starting LT Joe Staley, who is still recovering from a fractured fibula in mid-September that is expected to sideline him for eight weeks. However, it will likely be even more challenging to sustain now with starting RT Mike McGlinchey and starting FB Kyle Juszczyk out 4-6 weeks due to knee injuries.
Still, Donald said the duo's replacements are professionals. Ultimately, the key to stopping San Francisco running game is making sure their running backs don't get going early.
"You stick with the gameplan, you study your film, you trust what you've been studying all week and what you know, and you go out there and execute," Donald said.