THOUSAND OAKS, Calif. – Earlier this week, Ravens cornerback Marcus Peters told Baltimore media he holds no bitterness towards his former team.
More than a month after getting traded by the Rams to the Ravens, Los Angeles players and coaches still hold him in high regard as a person and a player.
"Happy to see him do as well as he is," Rams head coach Sean McVay said. "He's was a big part of a lot of things that we did well over the last couple years."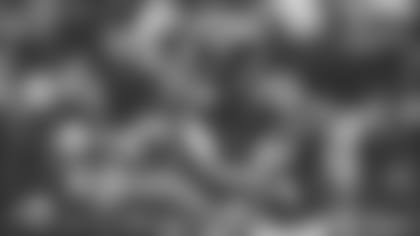 McVay and RB Todd Gurley have both kept up with Peters' performances with his new team.
When Peters recorded his an interception for a touchdown in his first game as a Raven, Gurley shared his excitement for his former teammate on social media. Not only was it Peters' first interception in a Ravens uniform, it was Seahawks QB Russell Wilson's first of the season after throwing 14 touchdowns without one.
Peters notched a second pick-six three weeks later, returning his interception of Bengals rookie QB Ryan Finley 89 yards for the touchdown. Once again, Gurley was among the first to recognize Peters on social media. In addition to the posts below, he also retweeted the highlight from @NFL.
McVay made note of both plays when talking about how Peters has always had great ball production.
"When you've got two pick sixes, it's hard not to see that," Gurley said, when asked if he has followed Peters' games with the Ravens. "We still stay in touch. If he ever needs anything from me I've got family there, I'd definitely look out for him. That's my guy. He's going to always be my guy. I definitely still stay in contact with him."
Peters posted five interceptions in 22 career games with the Rams, and his 26 career picks are most in the NFL since he entered the league in 2015.
"He's a guy that whether he was here or not, you've got to be mindful of because he does have such elite ball skills," McVay said. "You do want to be careful about some of the things that he might be familiar with."
Rams QB Jared Goff said that familiarity with Peters will allow him to take advantage of the matchup as much as it will allow Peters to.
"I think we know him, but he knows us. It's going to go both ways," Goff said. "Again, I think he's a great competitor and he's going to play well. It will be a good challenge for us and I'm excited to compete against him."
Goff, like Gurley, also appreciates what Peters has done in the NFL, praising Peters for being a "tremendous competitor and tremendous player."
When going up against him in practice, Goff said he admired Peters' daily work ethic as well as his football IQ and his understanding of concepts and route patterns.
"He's able to jump stuff when he sees it coming and you have to be aware of that," Goff said. "It will be fun this week competing against him and I'm sure he'll be ready."
All three hope to continue to see Peters succeed – just not at their expense Monday night at Los Angeles Memorial Coliseum.
"Other than this week, I'm nothing but a fan of Marcus Peters," McVay said.